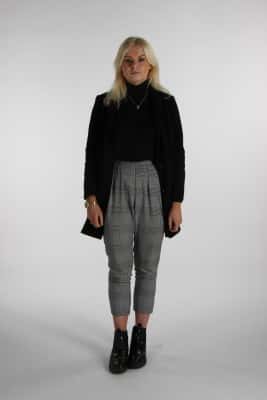 Today, my outfit is based around my mood; I decided I wanted to wear something comfortable and warm for my commute to Sunderland from Newcastle.
My coat is from Topshop and is extremely versatile.
I find black polo neck jumpers really flattering and therefore wear them a lot. Teaming my high waited check printed Monki statement trousers and black chunky patient ASOS boots.
I find that I keep my jewellery to a minimum; every day I wear my Olivia Burton watch, my Daisy London necklace and my Pandora and Daisy London ring along with my Pandora daisy earrings.
My everyday style changes constantly, I usually wear black skinny jeans with a coloured polo neck jumper a coat and some trainers. However every so often I like to make my trousers my statement piece too and therefore dress slightly smarter.
Get inspired by Ray's love of daisy rings with these beautiful pieces: