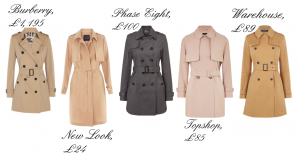 We all dream of owning that statement Burberry trench, but the high street have some fabulous offerings on their rails this season.
The trench was introduced in 1901, and has ever since remained a timeless part of our wardrobe. Taking inspiration from Burberry's creation, stores have designed and recreated the trench in so many ways. Take Warehouse for example, a buckled belt and gun flaps give a nod to the original design which is slightly tailored for a flattering fit.
For a summer look, New Look have designed an unstructured silhouette with a tie belt, which could be worn with a laid-back outfit. The trench coat has also been revamped in a range of different shades, such as charcoal from Phase Eight and baby pink from Topshop, which differs from the usual rich honey tones.
Style a tailored trench coat over a pencil dress for a smart look, or go for an off-duty approach my draping an unstructured jacket over a t-shirt, jeans and ankle boots.
Which trench coat is your style?
Tweet us a picture at @Fashion_North!