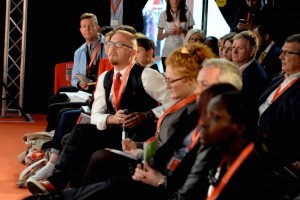 Always Wear Red will present to a panel of seasoned fashion and manufacturing industry experts at The Old Truman Brewery in London on Thursday 26th May.
Michael Owen, Founder and MD of AWR said: "This award is part of London's Meet the Manufacturer event, the UK's only event celebrating the very best British clothing, textile & leather-goods manufacturers.
"I was at this event in May 2015 as a pre-start business. I was photographed sat on the front row asking questions. Just one year later, having launched the Always Wear Red brand on Valentine's Day 2016 – I am up there on the stage myself. It's a great feeling."
2016 sees the launch of Designer's Den and the four finalists will be judged on the strength of their idea, commerciality, innovation and entrepreneurship.
Michael will be presenting the AWR brand to the entire conference and hopes to move from being 'Best of British' to 'Best of Best of British'.
Michael explains the Always Wear Red brand: "Always Wear Red is a British Luxury Streetwear brand whose sole purpose is to Create Confidence.
"We partner with the UK's finest manufacturers; knitting, weaving and hand-finishing everything the UK using only the world's best cashmeres, silks and leather. AWR believe that confidence in the collection inspires confidence in the wearer. The design is edgy and stand-out; definitely not for the shy and retiring.
"Ranges include scarves, beanies, wraps, ties and hanks – all of them a fusion of confident functionality done simply and well with stand-out, edgy design. Our trademarked slogan, "Confidence is a Colour", says it all really."
The AWR brand is led by designer and businessman Michael Owen, TV actor and writer Ralf Little and businesswoman and fashion–family royalty Zoë Rocha.
Always Wear Red is very soon launching eleven all-new 100% pure cashmere pieces, all of which are available for free 'ALERT ME' notifications exclusively at www.allwayswearred.com.