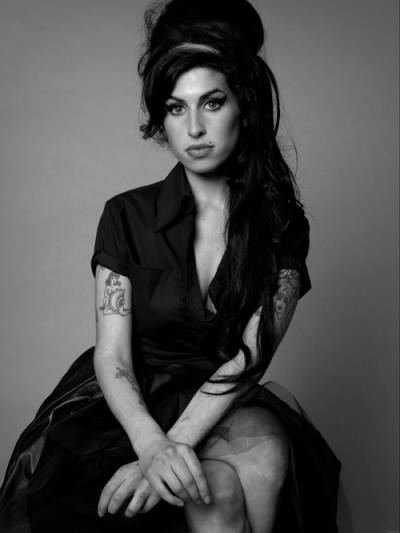 Not only was Amy exceptionally talented, but she was passionate about fashion. Behind the beehive and statement winged eyeliner, Winehouse dressed with a retro style. Often appearing in classic, timeless pieces and accessorising her famous beehive with bright scarves and colourful flowers.
Also seen in lots of classic Fred Perry polo shirts, jumpers and cardigans, the singer designed collections for the brand which combined British style with subculture. The Fred Perry x Amy Winehouse Foundation collection still goes on to pay tribute to the British icon with a mix of sporty and pin-up designs. The latest collection has been given a personal touch by Amy's tattoo artist Henry Hate, who has designed an embroidered patch for some of the garments. Two red love hearts appear on the polo shirts, cardigans and jackets to represent one of Amy's tattoos.
Amy Winehouse was such a huge influence in the fashion world, Jean Paul Gaultier paid tribute to her in his Spring 2012 collection. Models walked down the catwalk with beehived hair, winged eyeliner and wearing a range of 50s style silhouettes, giving a nod to Amy's signature retro style.
Amy Winehouse inspired so many, and will always be remembered as a British icon both in the music and fashion world.