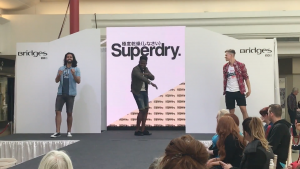 Fashion Week has landed in Sunderland, which saw models wearing popular high-street fashion brands in The Bridges Shopping Centre.
Trendy fashion brands such as Next, Superdry, Oasis and TK Maxx were included in the 10-minute catwalk takeover in The Bridges earlier today.
The girls put on a good show sporting the brand Oasis while throwing in some killer dance moves throughout.
Oasis' signature theme during the catwalk centred mainly on using floral and spring garments. One model wore a pretty A-line skater dress, paired with simple heeled sandals emphasising a beachy summer vibe.
Another model wore basic white jeans, however dressed the outfit up by wearing a chic floral blouse and nude heels.
However, the stars of the shows were the men who modelled for the contemporary fashion brand, Superdry.
With confidence, and Bruno Mars' 24K playing in the background, their perfectly executed dance moves coincided flawlessly with their stylish modelling of the vintage Americana inspired clothing brand.
The models all wore three quarter denim shorts, paired with a basic t-shirt, but their outerwear is what pulled their entire outfits together. Checked and denim shirts were certainly the statement centrepieces for Superdry's summer collection.
Overall, fashion week at The Bridges was a major success, gathering a huge crowd of passer-by's in awe at the fresh new styles these popular brands had to offer Sunderland and will soon be coming to a store near you.
Check out the catwalk below for yourself.
https://www.youtube.com/watch?v=-cYAGsNJYOk