Are you excited about that having that extra hour in bed tomorrow night? Because we are.  Here are our top picks of alarm clocks to make sure you wake up happy after catching up with that extra hours snooze.
Gradual Light Clock
Rather than waking up with the sound of a fog horn going off in your ear, this clock gently wakes you with a soft light which gradually brightens from 1% to 100% over the space of half an hour. It also doubles up as a nightlight or mood lighting, as well as, have a selection of nature sounds that act as the alarm noise. These are perfect for waking up on time, feeling refreshed and well rested on those difficult early mornings. You can get them from ALDI for £24.99.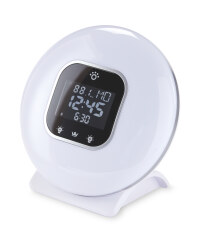 2. Chic Rose Gold Clock
This one makes for the best bedside accessory, if you're all into the "rose gold everything" hype. It's a minimalists dream with it's plain black face contrasted with white hands and lined numbering. It also has a silent second had for those of you who struggle sleeping with the sound of a ticking clock. Available from RedCandy.co.uk for £16.50
3. FitBit
Not a first thought when it comes to alarm clocks but the alarms on these handy little gadgets are amazing. You can set a 'silent alarm' through the mobile app which, when the alarm time comes around, will cause the device to vibrate lightly making waking up early in the morning a lot less offensive. Like the previous clock, there's no ticking to contend with so happy sleeping.
4. Coffee/Tea making alarm clock
Now, this one is a bit of a novelty but we just had to include it. Who doesn't want to be woken up every morning to a freshly brewed cuppa? Even better when you can enjoy it fresh from your bedside table. This clock starts to boil the water a few minutes before you set it to wake you up meaning your brew will be ready when you are.