Rosie Bradley gave us at Fashion North an exclusive insight into what her job entails, as well as some insightful tips and advice to making it in the industry and landing a first job or placement.
University of Sunderland fashion journalism graduate Rosie, told Fashion North that a typical day in her job consists of writing around "45 product copies per day which can range from fashion, fine jewellery, furniture and beauty products." This mainly focuses on product descriptions especially within fashion, for example there is a lot of attributes she has to include such as what it is made of, how it fastens and where it is made. To go along with the copy she would receive a vendor of images from the brand with a matrix which will be name of the products, prices, colour, shade, a brief bit of copy and their information to write the copy.
"When you go onto a website there will be images of the product, the name, a block of copy and a quote. The quote is something Harrods just brought in this year when the website relaunched which is just a snappy, magazine, colloquial term which helps sell the product if the customer is not going to read all the copy."
However, before Covid 19 Rosie used to visit the photography studies in Harrods where she told us "there is about 12 photography sets each day where you can see which fashion is on each set, which stylist is there and you liaise with the stylists." This meant Rosie could view the products in terms of material, colour, style and this helped her write her copy of each one.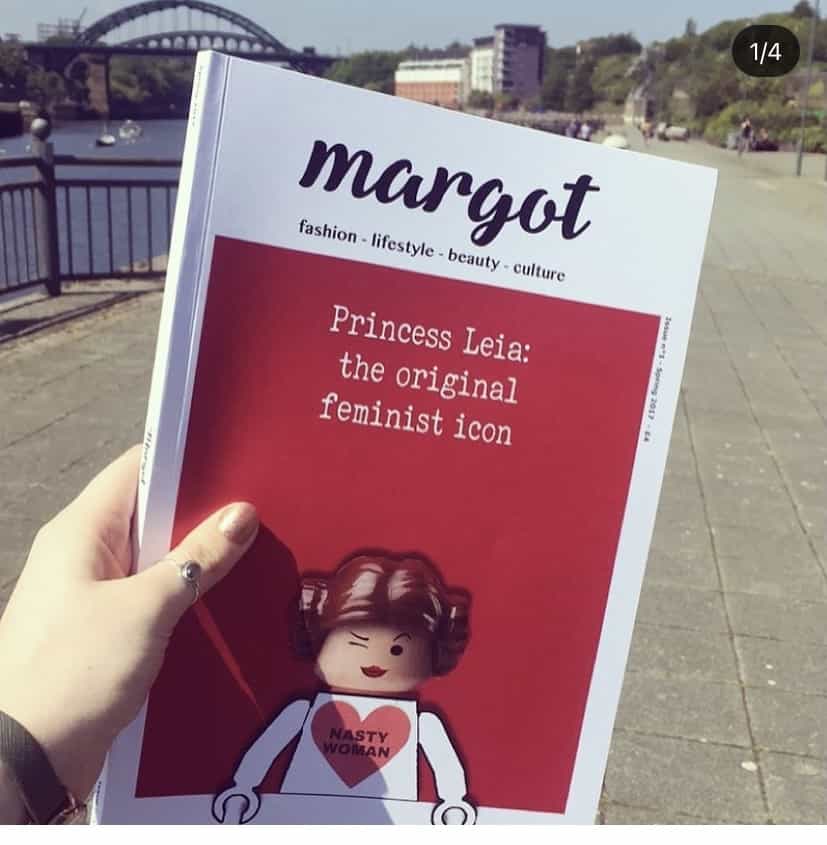 Rosie Bradley's practical project magazine titled 'Margot'
Rosie's top 5 tips and advice
Be accurate
Accuracy is key, especially when it comes to the job of a copywriter to make sure you get all details of the product correct in the copy. You need to decide how are you going to approach your customer and how it is going to appeal to them, which is essential in Rosie's job to make sure she uses the correct terminology and lexis to describe each product she writes about. No matter what job role you are going into in the Journalism industry, accuracy is key.
Embrace your confidence
Rosie interned at Hello Fashion for two weeks while studying at the University of Sunderland, and she landed that placement through one phone call. "I went down for September fashion week and then for the SS shows because there was more people at the shows therefore they needed more people in the office which is worth keeping in mind." Whether if it is for a placement, or you are contacting a source for an article you are writing, pick up the phone and give them a call. Having self confidence in your work will reflect in your writing and in a working environment, because in the industry it is all about who you know and once you have done your confidence will only grow.
Make the most of your platforms and skills
While studying at the University of Sunderland, Rosie worked on all the Media Hub platforms including Fashion North and Sports Byte which helped her branch out into writing in different tones and style. This was essential for her to use the journalistic skills she had learned while studying Fashion Journalism and has helped her in her job role now. Rosie told Fashion North "It is very handy to look at the catwalk review if you have more than one piece from one season to write about from same designer – you can be more creative but it depends how many products you have."
Do your research
When it comes to applying for jobs and placements, make sure you do your research around the company first. This will reflect in your interview process, as well as rehearsing potential answers which could come up in the interview you have. Secondly, make sure if it is a video interview due to Covid that your background is presentable, as well as your outfit, which means no pyjamas!
Be nice and it will be recognised
In life if you are nice to someone it is most likely they will be nice back, therefore if you are starting a new job or placement and are nice to the team of people you are working with they will remember you. Simply by engaging with the team and being nice it will reflect in your personality and could be a great contact and reference for future positions you are applying for.