Social media has been around for years now and a lot of us use it every day. Some of us have seen it from the beginning; like when Instagram first came out in 2010 and it only allowed us to post pictures, and when YouTube was the go-to place to find out about new products. However, over time, each social media platform has changed and included new things for us to try. Videos became huge after the introduction of Vine. Now we have TikTok, Instagram Reels, IGTV and the latest- Fleets.
You can find something about everything on social media platforms; whether you're interested in fashion, beauty, food, travel and loads more, you'll be able to find things you enjoy. Fashion brands, all the way from designer to high-street and e-commerce are using social media every day. Both social media and fashion brands are evolving, but is this because the two industries now go hand-in-hand?
Social media has created new opportunities for the fashion industry and as social media platforms evolve and change, fashion brands and the way they work change too. Fashion brands are now using social media to grow and develop. Social media allows them to reach a wider audience and provides them with a way to create a profile that potential customers can easily look through.  The total number of active social media users is now 3.96 billion (smartinsights.com) and this highlights just how big social media is. The fashion industry in particular has a large presence on social media.
According to statistics, Instagram is the social media network which has the highest engagement rate for apparel with 13% (marketingexpertus.co.uk). Lauren Robinson, marketing specialist and stylist for Master Debonair, said: "We use social media to gage what our customers like and don't like in terms of the outfits we put together. We definitely use social media to gage customers but also to see what other people are dressing like, who follow the trend that we go with. That's really useful to do. As we're quite local and small, social media is important. We have quite a large following on there. It's really good for pressing our brand out there, as it builds brand awareness and gives us a personality outside of e-commerce and outside of the shop. We rely heavily on being a family almost. It's important that we're personal and approachable to our customers and social media helps us engage with our customers so that we can be those things."
This emphasises how social media has allowed fashion brands to improve and develop. The more they use social media, the more the customers and potential customers can understand the values of their brand and that can be make or break for a fashion business.
To fully understand how this works, Managing and Marketing graduate and master's student, Nyasha Bonde explains: "The rise of social media has meant that in terms of connecting to an audience, it's much more effective and it's quicker; you can reach more people. Everything is there. With fashion brands and fast fashion, it's easier to connect to their audience specifically. A lot of their audiences are younger, and female based. Social media has their demographic. Let's say TikTok at the moment, or Instagram, a lot of girls get influenced by seeing things that people are wearing. They'll be like 'Oh, that's cute. I want to wear that' and then it's much easier for them to click on the brand, say for instance, Pretty Little Thing, and tags and see what they're featuring. It's very convenient for the consumer, and thus for the business. It's all about exposure."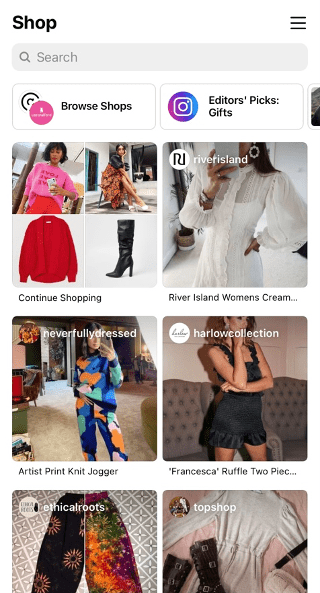 The 21-year-old continued to say: "I think a lot of influencers have migrated to make video content that's engaging and cool. There's an extra audience they can tap into, like Gen-Z. They're relevant and it's where the next buyers are. They're easier to influence. It's more creative now; it's not just about pictures. It's more engaging and it covers a lot of areas including fashion, beauty, all the way to food."
However, that's not the only way fashion brands can benefit from social media. A whole new job has emerged through the combination of social media and fashion. It has become one of the biggest types of career right now and we know them all very well- influencers. Lauren, aged 23, said: "Working with influencers is a really strong tool, depending on how that person engages with their audience. Influencers can be really beneficial to a lot of brands; especially if they have a large following and engage with their audience a lot. They can help push fashion products, in turn helping the brand. Using influencers can be really beneficial depending on your brand, but with fashion, it definitely is. I think once you see someone wearing something, especially a celebrity people favour, people are more likely to purchase the things they're wearing."
Lucie Simon, 24-year-old social media specialist, agrees as she says "Especially with the fast fashion brands, like In The Style. It's influencers who run their businesses pretty much; they keep their businesses going. That's definitely the case for brands that are based more on what's trending, as they've literally got to stay on-trend with social media. I know from watching fashion documentaries that as soon as someone like Kim Kardashian West wears a dress, fashion brands get it made in the factories as soon as possible so that they're the first one to sell that item."
The influence of social media on everything, let alone the fashion industry, is far too vast and ever-changing to be able to measure. However, it's evident that new markets and opportunities have opened up in the fashion industry since the beginning of social media. Every time social media platforms develop and expand, there's more for fashion brands and workers to explore.