The 1960s. Known for Martin L King, The Beatles, Twiggy fashion and floppy hats. The Swinging Sixties could be considered as one of the most influential eras of today's modern, contemporary clothing.
Barbara Hulanicki, a Polish fashion designer who built an empire of Art Nouveau inspired couture, opened a clothing store in 1964 called Biba's Postal Boutique. The store then became an overnight success thanks to a photograph featured in the Daily Mirror.
The print featured a pink gingham dress which was similar to the exclusive wedding dress worn by Brigitte Bardot in 1959, but perhaps more an everyday adaption.
Biba is known for 'Mod meets Art Deco'. In 2017, the Art Deco style is now more in connection with Art. Many restaurants, cafes and themed situations use Art Deco as a keynote issue in their establishments.
However, Art Deco Fashion has resurfaced in the industry in 2017. Holly Fulton created a speculation of 1960s inspired Pre-Spring Women's wear in August 2016. These pieces include pop Art Deco illustrations printed onto sweaters, exaggerated sleeves and check patterns. The Resort Cruise Women's collection was available from 2017.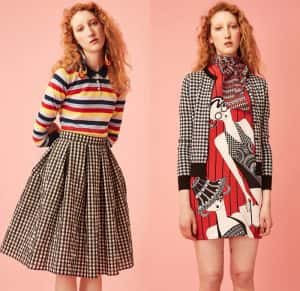 Holly Fulton has a Facebook, Instagram and Pinterest page which all feature products from Fulton's 1960s themed attire.
In particular, Gingham is something that hasn't left the fashion industry since the 60s. This is evident throughout the High Street today, as different and alternative garments are available in the pattern.
1960s Fashion has truly inspired the modern age. Art Deco will always be an influential composition and people of today will always look back at the Swinging Sixties with awe and devotion.
Check out our Pintrest Moodboard of some 1960s Biba images here