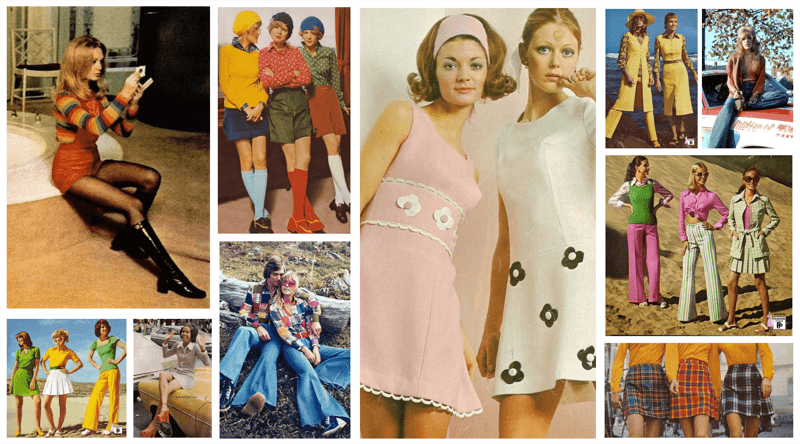 The 70s was a time for expressing yourself and experimenting through the clothes you're wearing. There was no limitations of fashion in this era. Intentionally mixing and matching colours, designs and patterns brought about this  new groovy styling.
Vogue said "there are no rules of the fashion game now. You're playing it and you make the game as you go".
Gender guidelines weren't as strict as they used to be. Men and women both found wearing extremely tight fitting pants and platform shoes. It was definitely an era of fun. Early 1970s seen some of the boldest and brightest outfits, toning down to more earthy tones nearing the end of the decade.
Comfort was a major part of the 70s and influenced most designers work. Halston was a large creator of the time, designing almost every popular dress seen on the dance floors at the time. His work reflected a sense of freedom with free-flowing construction without any buttons or zippers, perfect for dancing.
Polyester was definitely the material of choice – perfect for low maintenance fashion. Women and pants wearing was still very strong with more diversity than ever. High waisted, flared legs, hip huggers, straight, baggy. You name it, the women of the 70s were wearing it.
Denim became important to the era with everyone living for blue jeans. Lots of these fashion trends and influences have had a long lasting effect on the fashion of today and are still selling the same attire on your local high-street. Go get that fun 70s styling for yourself.