Chester-le-Street model and gym instructor beats anorexia and is off to Florida for her first big sponsored photo shoot.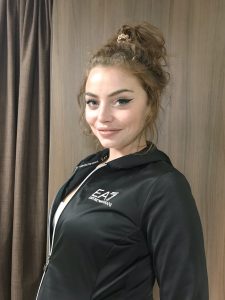 Beth has been modelling for three years, and it all started when she entered Miss Bijoux at Bijoux Nightclub in Newcastle City Centre. From there, Beth was chosen to do Miss Newcastle and became a finalist, unfortunately, she didn't win. Beth has struggled in the past with an eating disorder, and spoke about it during the question round of the pageant and due to her openness, she was approached by a journalist after the competition. Others soon followed and Beth ended up being interviewed by The Chronicle, The Sun, The Daily Star, The Mirror and more.
It was then that Beth decided to do her own at home photo shoot and hired a photographer to come to her house. Now, because of that one interview, she's done work for American magazines, fashion websites, page 3 and subscription websites.
Beth arrives, about 40 minutes late with her oversize handbag nestled in the hook of her arm and a Monster energy drink. Her hair pulled back into a messy bun and ready for a workout. Beth always walks like she has somewhere to be and considering she's late, she kind of does (when we asked Beth about her constant lateness, she told us she used to be very organised but as she's got older, has become more "relaxed").
The gym is divided into two floors, downstairs is a mens only gym and a hairdressers with a combined tanning facility. While upstairs is the womens only gym and an activity room for fitness classes. We vacated to the changing room where it's a little quieter; it wasn't. We sat on a bench, badly located near the hand driers (not so quiet). People walk in and out to use the facilities and I regret the decision to meet at the gym.
"I wouldn't be where I am today if it wasn't for modelling" She says, "but there is a certain pressure to look good when you're in the modelling scene"
At 5ft8in, Beth weighed in at just 6 stone and 3lb and had a BMI of 13.2, she was classified as dangerously underweight: "It was the pressure of school and I wanted to be a model from a very young age and I think I had the idea that you need to be really skinny to be a model," says Beth.
However, Beth got knocked back from modelling jobs for being too skinny. She would come back from castings in tears because they told her she was "too thin". But, Beth was determined to become a model and "plodded on".
Miss Newcastle is where it all started for Beth, but she said: "I was trying to put weight on then. It took me a few year though".
It was Beth's family that noticed her eating disorder. However, it wasn't until she went to the doctors that it all got a little bit too real for Beth: "They said you won't be able to have kids if you keep going on like this, I had to go for bone scans, things that 70-year-olds go for, when I was 16," she says.
Despite the smile on Beth's face as she talks there is real fear in her voice. A woman absolutely terrified about the outcome of not being about to have a family.
Beth became a gym instructor at 17 and said: "It was a bit of a funny situation actually because I thought I was so skinny and this is either going to help or hinder me," Beth was at her worst when she started the gym, "I think I had an obsession to look good, that's why I decided to do it".
"I don't think it helped me being in the gym environment" She says,
"If anyone is wanting to do the gym or any sort of course to do personal training, fitness and nutrition that this [the gym] is the best route to go down, if you're really skinny, your mind set is not going to help you at all, it didn't help me. It made us more obsessional which isn't good".
But, there is a light at the end of the tunnel and Beth is now the best she has ever been, she doesn't even weigh herself anymore: "I just don't feel the need," she said.
Beth now has a new outlook on modelling and has plans to continue doing it "until her time is up". Even with the industry changing with brands like ASOS and Misguided having plus size models, and ASOS not photoshopping out stretch marks, Beth says: "There is still such a stigma to be and look a certain way and it's crippling, it's crazy what it does to people, I don't think you realise unless you're in it yourself, there is a big pressure."
"See when you're a model you compare yourself to everyone and you think, oh am I as good as them? Does my body look alright? How will the clothes look on me? How will I look in a bikini?" Beth says. Even now Beth compares herself to other models, she says "it's hard not too".
Beth will be flying out to Florida on November 27 for a sponsored photo shoot. Her trip is being paid for by a photographer who is also having all her clothing custom made to her size: "It's lovely for him to do that so I can't wait," she said.
This is the first big opportunity Beth has had and hopes she'll get to do more trips like this in the future. There is nothing in the north east for the type of modelling that Beth does, which means she frequently travels to London.
"Abroad and America, it's big over there, Glamour especially, the industry, it's dead, it's not here" Beth says. Which is why this opportunity in Florida is so important to her and she hopes it will open more doors to chances like this in the future. But, before Beth can fully embrace this opportunity she's going to have to tackle one small problem. She's never been on a plane by herself before: "I can't lie I'm really nervous, I've got to get two planes as well," Beth tells me, and you can hear the nerves in her voice, but she smiles:
"I can't wait".