The Gucci look is something we've all become very familiar with since the reign of Alessandro Michele with the Italian brand.
Earlier this year saw the release of their beautiful Gucci Garden collection, made in collaboration with an illustrator, known as the GucciGhost.
Here at Fashion North we were all aboard the Gucci train from the word go, and we couldn't wait to see what Michele had in store for us for this season.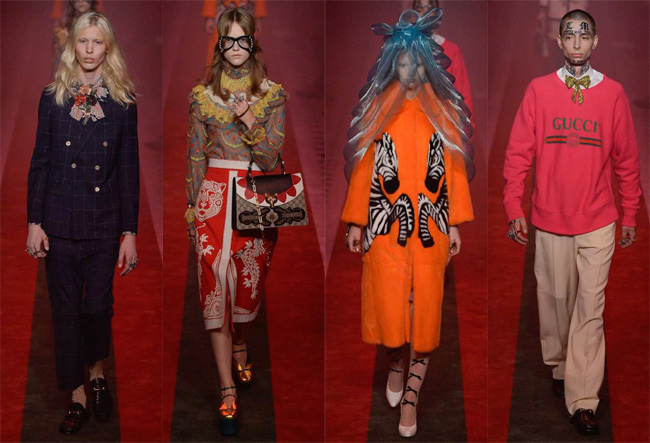 A soft orchestra welcomed the models to the pink and black star-lined runway, which snaked around the room. It was a wonderful scene, and the pink glow of the room went perfectly with the clothes. All in all, it was a colourful ensemble of Seventies disco vibes.
The illustrator Jayde Fish worked with Michele to make the Gucci art come to life. Her designs of lions, tigers, dragons, snakes and monkeys were exquisitely embroidered and beaded onto the clothing in an array of colours.
Suits of long-line blazers and bell-bottomed trousers dazzled the crowd in kaleidoscopic colours of black, green, red, blue and orange. Once again, Michele was not afraid of a bit of colour.
Some of our favourite looks included a pale pink dress with the beaded bodice and flared sleeves of layered tulle, as well as the black tiger tee, styled with a silk pencil skirt with an illustrated ensemble of various insects.
Each look accentuated the waist with belts of red velvet, black leather corsets and of course, the classic thin Gucci branded belts.
The styling flaunted the geek chic Michele is partial to, with bedazzled oversized spectacles, and heavy mule-style wedges in dark shades of red and brown.
As the models walked the final runway, it was as if a pink filter had been applied to the whole set and as the violins and orchestra played, the audience applauded in awe.
Overall a very flamboyant, maximalist collection from Michele that we here at Fashion North, will be looking back to for our SS17 styling inspo!