Who says it just has to be Wednesday we can wear pink? This season we can wear it every day! From pretty pastel pink to the hottest of pink, you heard it here first, pink is the colour we want to be wearing lounging on the beach this summer.
Plastered all over the runway during this year's fashion weeks was the colour pink, so we definitely got the hint that pink isn't just for Wednesday even if Lindsay Lohan and her Mean Girl crew said so.
Throw away your dark winter wardrobe and hit the high street and bring out the girl in you! And boys, don't shy away just because it's girly colour, you can also wear this colour loud and proud.
All of the fuchsias were flooding the runway during Fashion Week and they weren't subtle about it either. Near enough all of the designers picked up on this trend and graced us with all of our favourite colour; pink! Topshop being one of the first catwalks to represent. And then Valentino confirming that pink is definitely the trend we need to all be wearing with the dress hybrid.
It could be classy, edgy or just casual, you can wear the colour pink in so many ways. Our celebrities show us the best way to glam our wardrobe up with a bit of pink. We're no longer associating pink with a sickening bubblegum Barbie princess. It's a way of life with styling our favourite looks.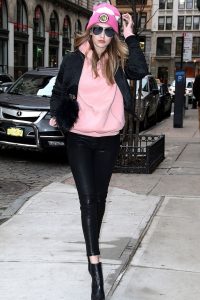 The beautiful Gigi Hadid proved to us that pink is back and with a full takeover. She wears a casual outfit that would usually be all black, but she styles it up with a fuchsia pink beanie hat and a pastel pink hooded jacket underneath a black bomber. She's going for more of an edgy look but with a sweet burst of our all-time favourite colour.

Valentino is definitely hopping on the pink bandwagon this season. Their latest Instagram post shows off a bubblegum pink longline v-neck with a sign in the background saying "pink is punk" bringing two contrasting trends together.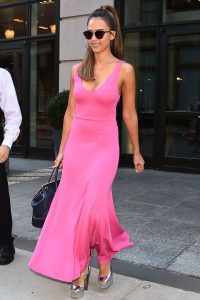 Again, hot on the trend is Jessica Alba showing us to not be afraid by wearing a Barbie pink maxi dress. She wears it so effortlessly, there are no big designs splashed all over and no fancy cuts, just a simple pretty pink maxi dress, which she pairs with silver holographic chunky heels. With her golden sun-kissed tan we all want to look as glam as Jessica Alba in her shocking pink dress.
This colour definitely complements any type. Even if it is just a splash of pink you want to go for you'll be bang on trend this season. Taking style tips from Gigi Hadid and wear it casual or glam it up like Jessica Alba, you will not go wrong by adding this colour to your wardrobe to bring the black back to life. Are you daring enough to go bright?