Fashion North investigates the rising phenomenon of the luxury dog fashion industry
From bridesmaid dresses and knitted jumpers to temporary tattoos and spa treatments, Brits are spending a huge £10.64 billion a year on their dogs – that's £1525 spent on every dog in the UK annually, according data gathered by American Express (published in Business Quarter).
Last month River Island launched, RI DOG, an eight-piece collection offering a versatile selection of stylish pieces. With items priced from £10 to £18 this is the first dog fashion collection to hit the British high street.
RI DOG showcases this season's key trends guaranteeing you and your pet pooch can be stepping out in style on a budget. A high street store launching this collection proves that dog owners have a desire for more accessible and affordable doggy fashion.
H&M have followed in River Island's footsteps and now sell a small range of fashion items.
Moving away from the high street more expensive brands have catered for dogs for some time. Homegrown North East brand Barbour sells high quality coats as well as stylish accessories, like tartan collars and leads.
Direct Line pet insurance found 3.6 million British dog owners spend over £100 a year on accessories, so-called 'petcessories' reports Dog Magazine.
The information continues to say young pet owners (18-34 year olds) are the most likely to splash out on accessories for their pets, spending on average £83.93 on each dog.
Young dog owner Charlotte Hagel, 22, is no different admitting she sometimes spends £15 a month on her adorable Miniature Dachshund Sizzles.
Charlotte, from Northallerton, said: "I love buying her items. I especially love it if they are similar to something I own. I think the high streets are cottoning on to what a big craze it actually is. Every time I go shopping I notice a new high street store branching out."
What some people don't realize is that dog clothes aren't always just for style, but smaller dogs with short hair actually feel a chill – especially in the North East climate!
Charlotte added: "I choose to dress Sizzles mainly because she is a small breed with a fine coat and genuinely does get cold. She has been known to refuse to go out if it's too cold."
Take a look at Sizzles' Instagram to see how she styles clothes and accessories.
The desire for dog owners wanting to keep their four-legged companions up to date with the latest fashion is something that has been noticed by retailers.
London-based brand Purplebone, which has three boutiques and an online shop, sells "high quality lifestyle goods for the modern dog owner."
Julian Victoria, Purplebone Creative Director, said: "We do see lots of dog owners that are more trend conscious and companies like us want to cater to those trends so we work with patterns and colors that are in season."
Julian also recently launched DOG an independent magazine. DOG is a high-end publication, released twice a year, featuring impeccable design, creative content and the exploration of meaningful issues. Since its launch DOG has been "welcomed with open arms all around the world".
The North East also has its own dog magazine in Urban Pooch created by University of Sunderland journalism graduate Kelly Hepworth. The online publication features fashion advice and product reviews.
Aside from fashion another successful part of the pet industry is 'beauty' and cosmetics. Many dog owners even treat their dogs to spa style treatments (27 per cent according to Capital One research).
Rachael's Mobile Dog Grooming, of Seaham, offers the standard grooming treatments and less conventional treatments like temporary tattoos and hair dying.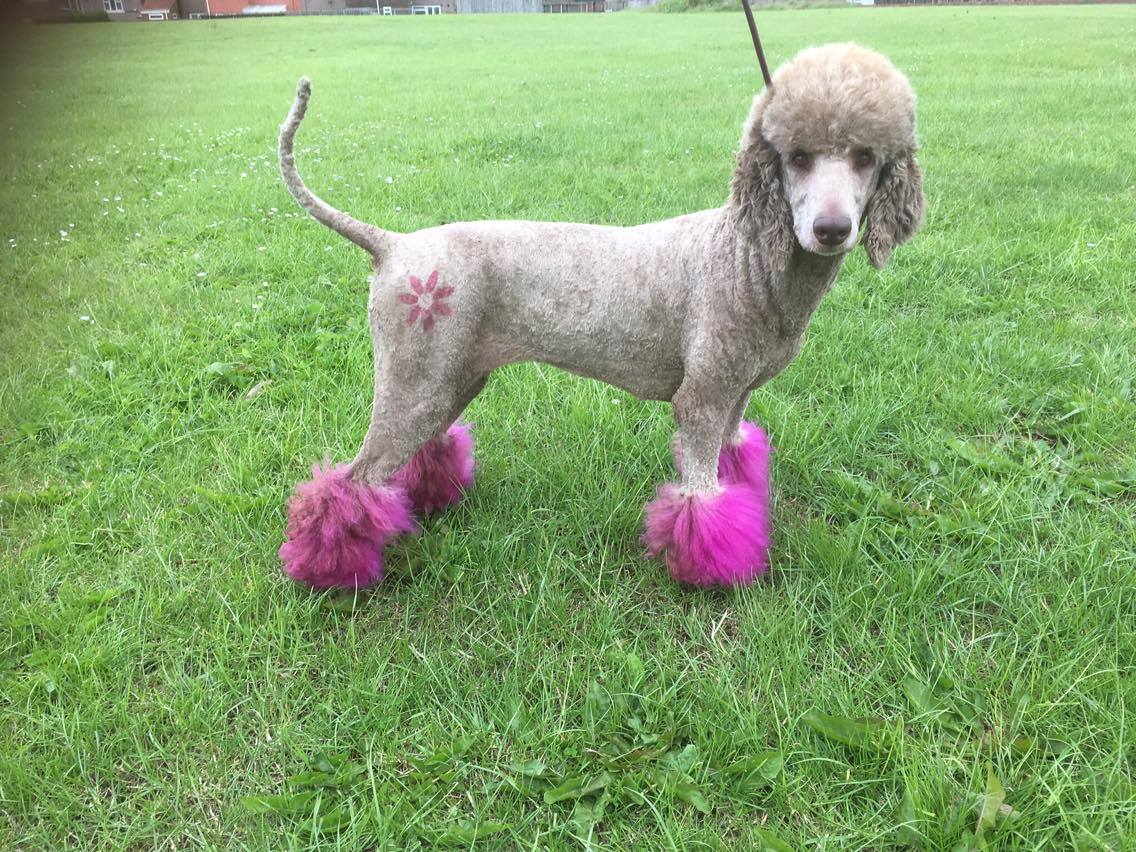 Rachael Purvis says her creative grooms can be anything from a small tattoo type stencil to a full all over colour! She has noticed a rise in the popularity recently and she hopes to specialise in this type of grooming in the future.
Rachael, who got married in September 2015 in Seaham had four of her own dogs act as bridesmaids on her big day. Her dogs wore lilac collars and leads, matching with the rest of the bridal party and one pup even had her own dress. Rachael admits her dogs are "spoiled rotten".
Rachael, and husband John, were not alone in wanting to have their four-legged companions at their wedding, with 10% of pet owners in the North East saying they would bring their pet to a special occasion, such as a wedding (TotallyMoney).
In fact, a lot of us are inseparable from our dogs and want them by our side as much as possible, hence the emergence of totally dog friendly cafes.
Doggy Diner, in Seaburn, has recently been voted the Most Dog Friendly Café in the UK by Kennel Club.
Adrienne Dickson, a partner at Doggy Diner, said: "We're absolutely thrilled and shocked that we've won our award. We only thought we'd won in the north region, but to find out it was national was truly amazing!"
At Doggy Diner they host lots of birthday parties and are themselves are amazed at how much people spending on treats for the dogs.
Adrienne added: "We sell lots and lots of bandanas, boats, bow ties, ties and personalised collars in our diner. But some people ask for some bizarre items such a dog socks and dog wellies which we don't stock!"
Social media and the desire to have an 'on point' Instagram feed could be a factor in the rise of dog owners spoiling their pets. The need to share our lives on social media and give the impression of luxury is huge and with hashtags such as #richdogsofinstagram having over 8000 posts people feel pressured to boast about what they've bought or what treatment they've just had done.
TotallyMoney reports that 35 per cent of North East pet owners admit to regularly posting photos of their pets on social media proving that us Northerners love to show-off our furry friends.
Some dogs have even shot to fame through the use of social media, such as Pomeranian Boo, who has amassed over 17 million likes on Facebook and secured a book deal and merchandise.
Another sector of the dog industry that is on the up is subscription boxes. Subscription boxes have been huge in the beauty industry over the past few years with services such as Glossybox and Birchbox delivering a selection of cosmetic products to your door each month. Now your pampered pooch can receive a box of goodies with services like Purplebox and Puppy Essentials.
Puppy Essentials is a new company and offers more one-off boxes that you can purchase online and are aimed towards special occasions, such as birthdays and Christmas. Spending on pet presents has grown by £3 million over the last two years with 88 per cent of people buying extravagant gifts for their pets (reported by Capital One).
Kyle, from The Puppy Essentials Team, said: "We're an exciting new start up and have been trading for just three months in an industry that we feel is on trend and very much a growth area."
Puppy Essentials boxes include cool, quirky products from independent brands such as dog popcorn, beer and champagne and they even plan to launch style themed boxes, featuring accessories and dress-up items, early 2017.
TotallyMoney reported that a massive 73 per cent of pet owners in the North East would "very much so" consider their pet a family member and this is evident in the money we're spending on them and the increasing amount of fashion, accessories and treatments available.
Fashion North is looking forward to seeing if anymore of our favourite high street stores are going to release dog fashion collections.
Do you dress your dog? Tweet us a photo with #FNdogs to @fashion_north