Iconic 1950s Italian actress Sophia Loren is still known today for her heart-throb films and photoshoots. Many of her appearances included Loren wearing an abundance of fabulous garments.
As the fifties was an era of exciting fashion for swing dresses, poodle skirts and elegant blouses, it is easy to say that elegance was the craze of the time. Most of these garments were worn by Loren in most of her photoshoots and films, which truly reflects the change in culture at that time. Vitality and glamour was reinforced through Loren's style and fashion choice, which helped shape the era. All of the garments she wore showed the 1950s glamour figure in a feminine and modern light.
As you can see from this photo of Loren, which was taken from one of her most famous films Boy on a Dolphin (1957), Loren wears a simple yellow playsuit which was highly favoured in the 1950s, perhaps due to the bright and bold colours which came into fashion, particularly within swimwear. Loren's style here is very similar to fashion that a lot of women wear this present day.
Many high-street shops such as Topshop and River Island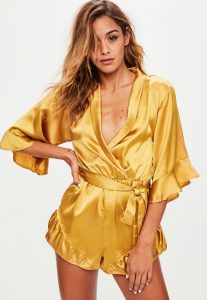 have similar garments which are very popular. However, this playsuit, currently available from Missguided, is almost
symmetrical to Loren's piece she shows off in the film. Suitable to wear day or night, this playsuit from Misguided, can be paired with almost any accessory. At the price of just £28.00, there is no reason anyone could not re-create this eye-catching look.
We have put together a Pinterest board here