We all want to have the perfect pout or defined cheekbones, but is the desire to look like our favourite celebrities becoming dangerous amongst the younger generation?
In recent years, cosmetic filler appointments have become as much of a regular occurrence as any other beauty treatment. But there is one big question – why?
The non-surgical cosmetics industry in the UK is currently estimated to be worth around £3.6 billion, with injectable treatments – such as filler – accounting for nine out of ten procedures.
Procedures like this were once exclusive to the rich and famous, however, they have become increasingly more accessible, as well as cheap. In the UK, you can now plump up your pout or sharpen your jawline for the same price as a weekend away.
Social media sites, particularly Instagram, is full of celebrities such as the Kardashian/Jenner clan, showing off their perfect pouts and cheekbones. The now conventional look has even be dubbed the 'Instagram face'. But what effect is this having on young girls and women?
View this post on Instagram

Rebecca Owens, a lecturer in Psychology at the University of Sunderland, said: "There are a number of mechanisms by which celebrities can influence impressionable youth. Adolescents and young adults are particularly impressionable because this is a crucial time for the development of identity. It is a time when people begin to push back from their parental bonds and begin looking at others, such as their peers."
"One side effect of the increased use of technology is that we are almost duped into considering celebrities to be 'part of our tribe' because we see and invest in them so much. When we identify with people, or we want to identify with someone, we begin to emulate them. This is particularly the case with successful people in our environment."
"When celebrities engage in certain behaviours, this can seem particularly attractive to younger adults. Not only does it seem more normal and more attainable, but it is almost as if it is endorsed by someone who you identify with and want to be like. Furthermore, they are successful, therefore you feel as if it is something you should engage in too."
In 2015, in the 24 hours after Kylie Jenner admitted to having had lip fillers, clinics in the UK saw a 70% increase in requests for the same procedure.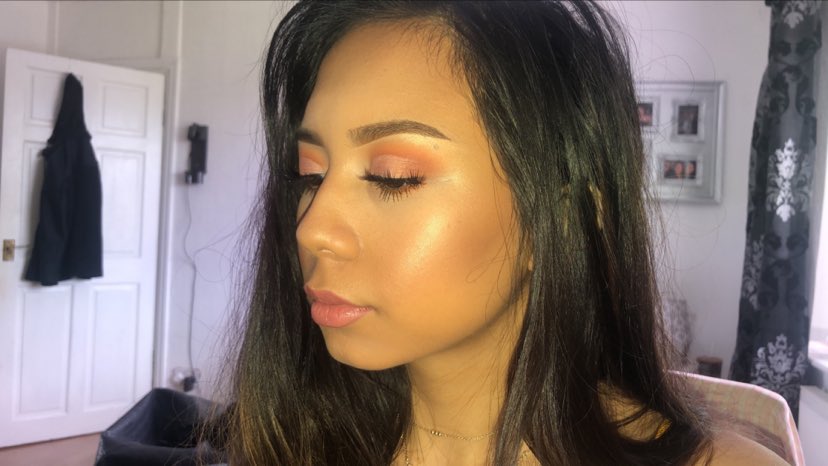 Jussy Saltiga, 21, Cumbria, before getting lip fillers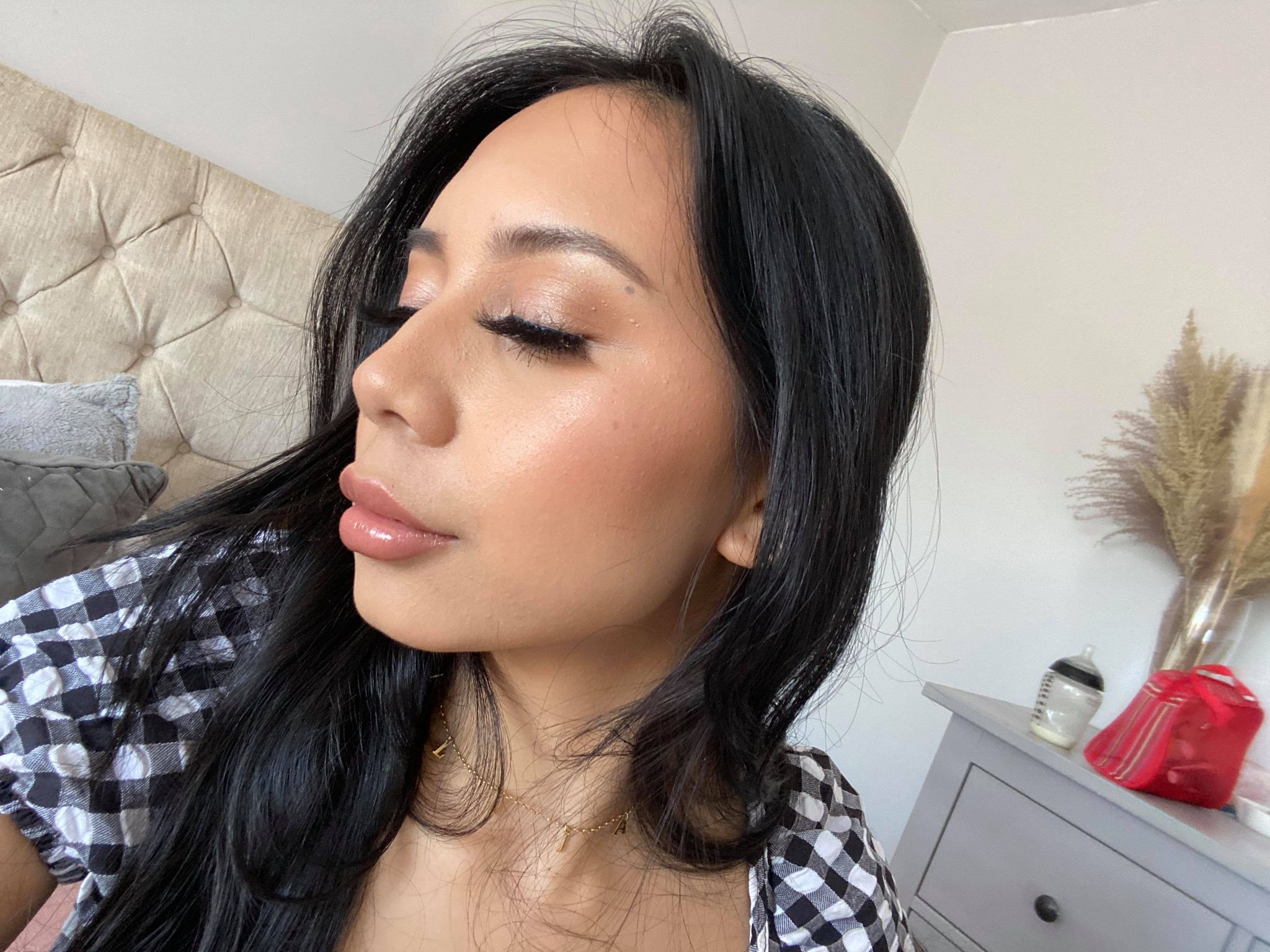 Jussy after getting lip fillers for the third time
We spoke to Dr Kay Jegede, who is an NHS and cosmetic doctor, about whether she thinks there is a correlation between the rise in cosmetic filler procedures and the influence that celebrities have on young women.
"I think the most popular influencers that we have in our time are the Kardashian/Jenner family. Nobody can say the words dermal filler without mentioning Kylie Jenner. Especially in the last five years, we've seen an explosion in people requesting cheek, jaw, nose fillers, contouring, because of influencers like them."
"There are also influencers that you see that are more kind of relatable and approachable, and they've opened up the world of fillers to women and girls – and men – who may never have thought about it before."
A rise in requests for filler procedures in general, has lead to an increase in 'botched' cosmetic procedures being reported. Since 2017, the number has more than quadrupled from 378, to 1,617 in 2019, which suggests that people are taking advantage of young women's desires for cosmetic filler, due to wanting to look like their favourite celebrities,  and improperly administering it. 
In an investigation conducted by VICE UK in London and Essex, they found that injectable fillers were being administered in a whole host of places, such as leisure centres, gyms and even people's personal living rooms. In addition to this, 90% of the providers being questioned, admitted that they wouldn't think twice about offering filler to a 16-year-old.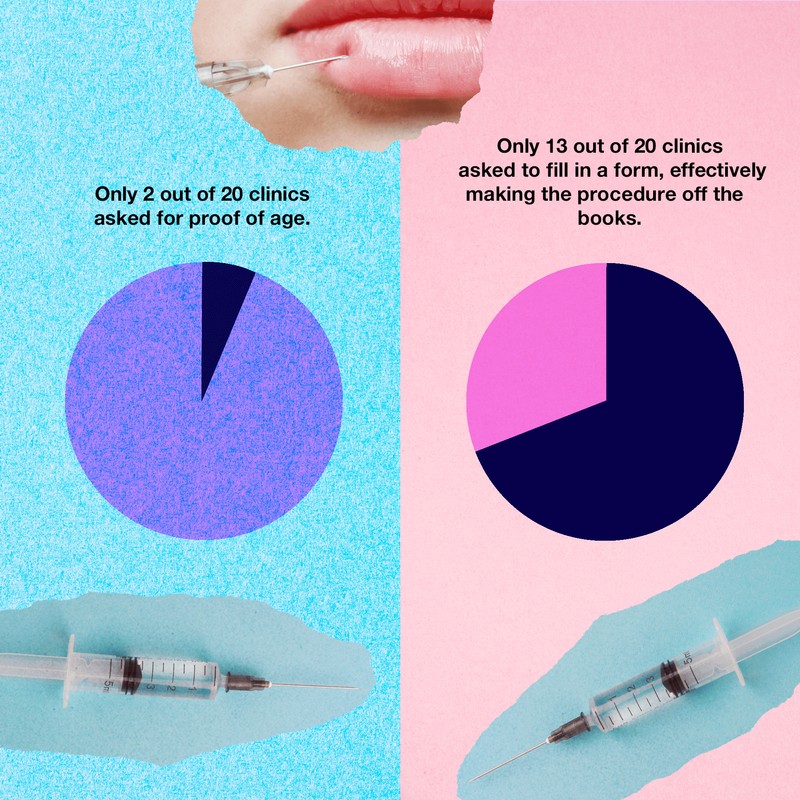 An infographic about the results from the Vice UK investigation
Image: www.vice.com
These findings highlight the fact that cosmetic fillers may be becoming a dangerous trend, particularly to the younger generation, and leaves questions about whether cosmetic fillers are really safe at all.
Dr Kay Jegede said: "Overall, dermal fillers are safe. There's a very low risk of side effects and complications, especially if you do your research and you go to somebody that has a lot of experience and knows what they're doing. The risk of side effects and problems tend to be related more to the technique, or going to somebody who doesn't have a lot of experience."
"Nothing is 100% foolproof, so there will always be things to bear in mind with dermal fillers. The main things are immediately after there may be some things like swelling, bruising and bleeding, but this is common and will settle if you give it about a week or two."
"Other things tend to be rarer, so things like infections, developing an allergic reaction or a lump, and issues with what we call granulomas or inflammation around the fillers. If you go to somebody that's really well trained, that shouldn't really be a possibility."
However, recently, it seems as though some celebrities are changing their mind and are choosing to have their filler dissolved. 
In October last year, Love Island star Molly-Mae Hague, posted a video on her YouTube channel telling her subscribers that she had had her lip filler dissolved. Other celebrities who have also had their filler procedures reversed include TOWIE cast members Megan McKenna and Shelby Tribble.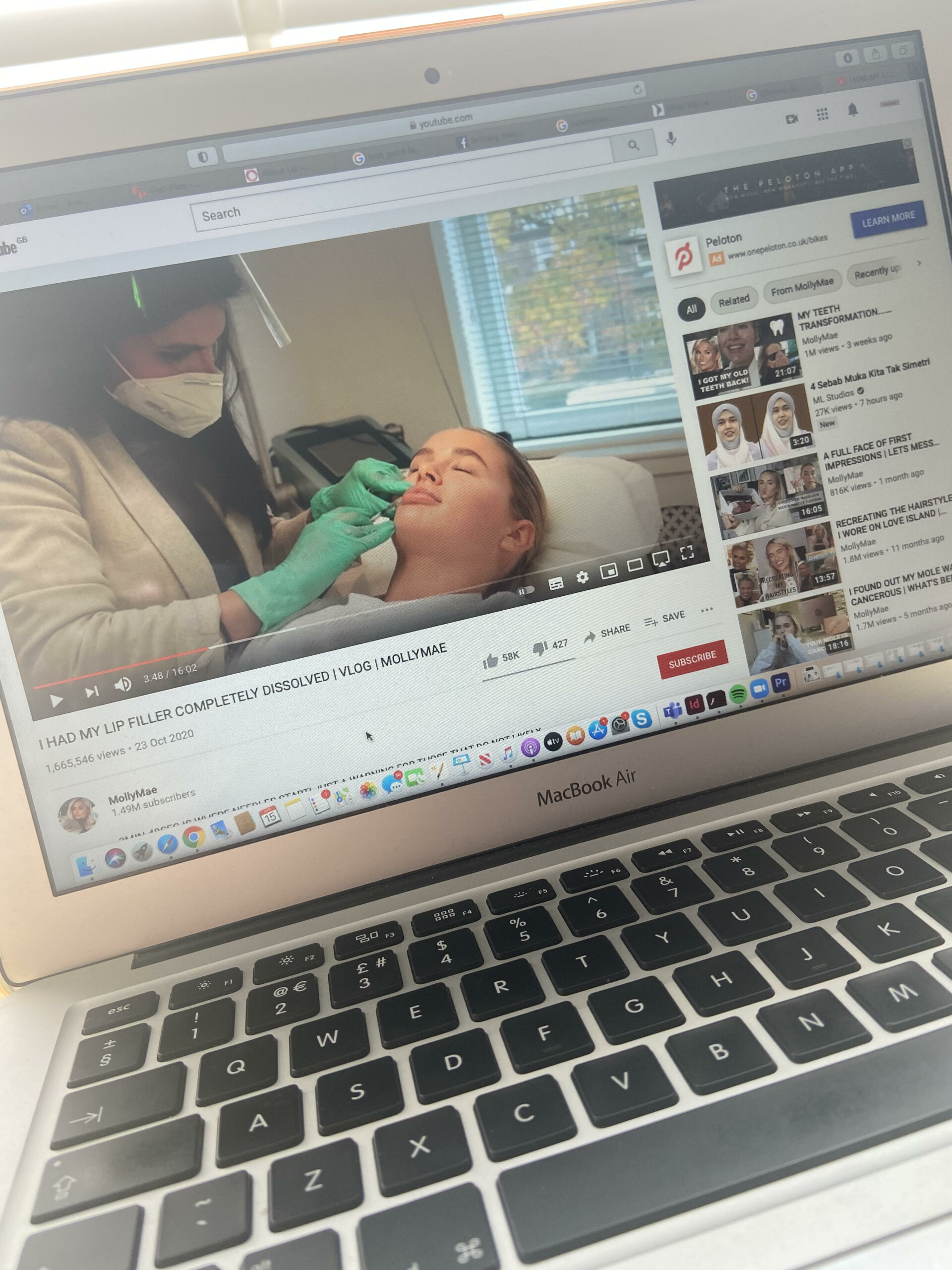 An image of Molly-Mae Hague's YouTube video about getting her lip fillers dissolved
We asked Dr Kay Jegede whether she thinks young women will follow suit.
"I think it will open a conversation around dermal fillers, that they're not just automatically dispersed and that it's not just a lunchtime procedure that doesn't come with its consequences and complications, it's an individualised decision."
While the influence of celebrities can be a major factor in young girls and women deciding to have cosmetic filler procedures, ultimately, it is down to an individual's personal decision. It is a safer and more accessible alternative than going 'under the knife' and having major surgery to fix a minor insecurity. Whilst there is nothing wrong with wanting to look more like your favourite celebrity, young women should never feel like they need to have cosmetic filler in order to achieve this.
Do you think celebrities are to blame for the rise in young women wanting cosmetic filler procedures? Let us know @Fashion_North!