Words By BOBBI BUNKER
The winter months are swiftly approaching, which means the leather boots are being pulled from the piles of sandals at the bottom of your wardrobe, as well as the many scarves that you have managed to accumulate over the years.
Here at Fashion North we have decided that it is time to spice up your winter wardrobe and have pulled together our favourite 5 winter coats that you can bag for under £50.
ZARA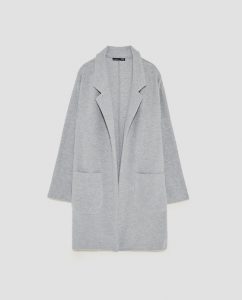 Every year Zara are always at the top of the high-street leader board when it comes to winter coats. So, it is no surprise that this season they have released some top-quality pieces that are also budget friendly. One of the items that stood out to us the most is this light grey soft coat with lapel collar and long sleeves. This item would be great for everyday wear due to its soft texture and breathable fabric, it would also be a great item for layering. This winter coat comes in at an unbelievably cheap price of £29.99, which is great for you budget seekers.
NEW LOOK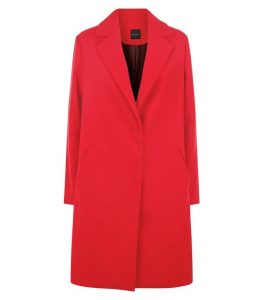 Over the last decade we have seen red creep in and out of the fashion world multiple times but never have had the lasting power to stay until the next winter. However, this year we are seeing red all over the high street stores and even on the runway. If you are ready to step out of the monochromes and neutrals and branch into colour this winter, this New Look coat is the perfect way to do so. With its collared neck and a casual fit that it is true to its size, it is the perfect way to incorporate colour into your winter wardrobe and it is only £34.99.
MISSGUIDED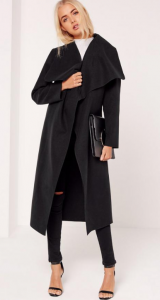 If the previous coats were not for you, then you could go for this all black oversized waterfall duster coat to keep away the cold this season. This black number is from online store Missguided and retails for an amazing price of £35.00 and for you lucky students, you can get an additional 20 per cent discount with your Unidays. Shoppers from Missguided have rated this coat an astonishing 4/5, bonus!
TOPSHOP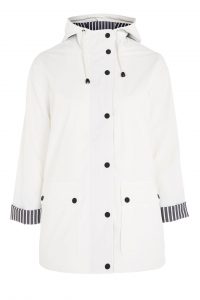 If you need a coat you can just throw on on a rainy day this is the perfect winter coat for you. Although it may not be the warmest of the five, it will keep you dry in the dull months and that is what layering is for anyway. Not to mention the beautiful striped detail on the cuffs and inside hood. Who would have thought this coat is £49.99? Bargain for Topshop!