Corduroy jackets, high-waist mom jeans and baseball shirts are some of the many vintage items that are in right now. Why are retro trends on the rise in the North East and where are the most popular places to shop?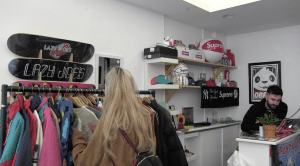 Vintage clothing has had a huge cultural impact in the UK even encouraging popular brands such as Urban Outfitters, H&M and Zara to adapt their style to suit the emerging trend.
"Vintage fashion is all about the look and not the price or the brands," explained Mary Beange, avid fan of vintage clothes.
"It kind of defines you as a person, you can mix up loads of outfits together. Vintage fashion is pre-owned clothes that has a unique old fashioned kind of twist to it."
Lazy Joe's is one of the many independent vintage stores in Newcastle, the central beacon for the ever-growing culture.
"Vintage is anything that is older than 20 years, so everything in this show tries to stick to that," says Lazy Joe's employee Daragh.
Items such as authentic Levi's denim jackets and American baseball t-shirts can be bought at a reasonably cheap price for the quality of pre-owned, retro clothing.
"I didn't care about how I dressed until I started working here."
Some of the outfits seen in store consisted of pre-owned sweaters matched with corduroy jackets and classic vans, to create a look that is both interesting and unique.
https://www.youtube.com/watch?v=eO0AWRjMDS8