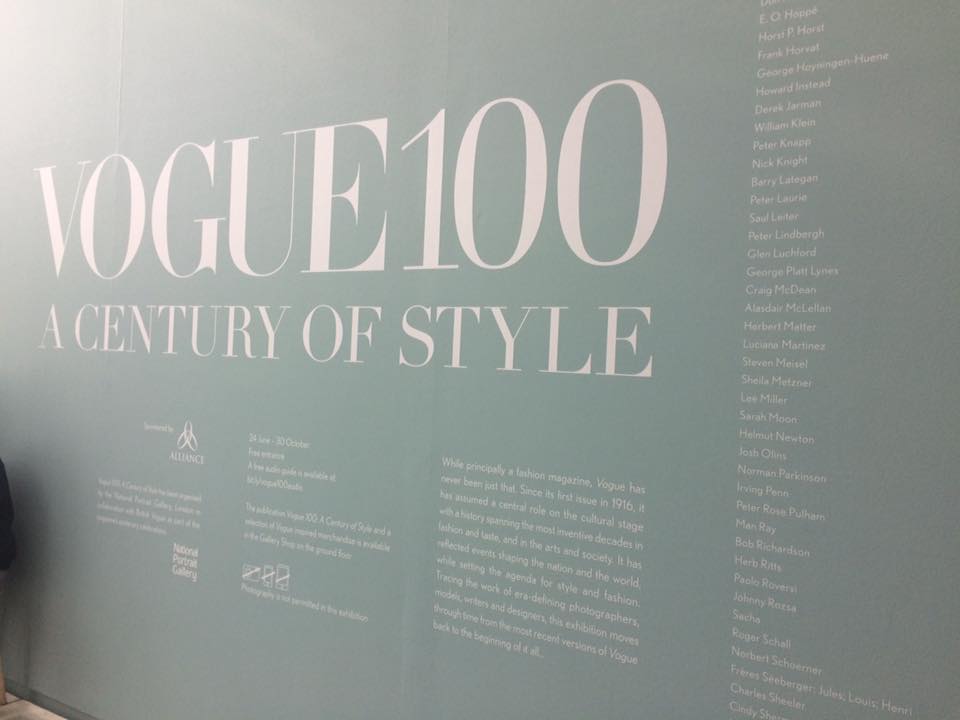 This year the fashion world has been celebrating the 100th birthday of one of the worlds most iconic fashion magazines, British Vogue. Designers created one off pieces to celebrate a century of Vogue, including Burberry trench coats and bottles of Moet and Chandon embellished with Swarovski crystals. Not forgetting that iconic cover with HRH the Duchess of Cambridge and the TV show 'Absolutely Fashion', which gave us all an insight into what happens behind the scenes.
However, an inspiring tribute to Vogue is the Vogue 100 exhibition, which began its journey in London and is now at Manchester Art Gallery. Here at Fashion North, we were so excited when we were given the opportunity to see the exhibition, so off we went to Manchester on a very early coach trip!
The exhibition began with a behind the scenes video full of famous faces including Kate Moss, Edie Campbell, Brooklyn Beckham and Dakota Johnson. It was after the video that the pages began to unfold, and we were taken on a journey through the archive of British Vogue.
From 1916 to 2016, the exhibition showcased the most defining moments in fashion from the century by telling the story of each decade through the covers and iconic fashion photography. From vintage 60s prints of Jean Shrimpton  photographed by David Bailey to Kate Moss' first cover in 1993 by Corinne Day. It was eye opening to see just how much the magazine has changed, from the Art Deco covers of the 20's by Cecil Beaton, to the aspirational images from the 70s and the 90s supermodel movement. Our University of Sunderland Chancellor, Steve Cram CBE, had his photograph featured in the exhibition, taken by Paolo Roversi in 1985.
The most well known names who have played a part in shaping the fashion world had their pictures showcased in the exhibition, including Vivienne Westwood, Yves Saint Laurent and Alexander McQueen.
Magazines were also presented in glass cases, from the very first issue in 1916 to the centenary issue from June this year. It was inspiring to see just how much the magazine and fashion journalism has transformed over the last 100 years.
Vogue 100: A Century of Style is at Manchester Art Gallery until October 30, 2016. Find out more information here: http://manchesterartgallery.org/exhibitions-and-events/exhibition/vogue100/ 
Have you visited the exhibition yet? If so, what did you like about it? Tweet us at @Fashion_North!