Whether it be spots, an abundance of oil or a combination of both, most of us have a stubborn skin dilemma that's a torture to target.
That's where The Body Shop comes in. Their seaweed range has been designed for oily/combination skin, and boy has it changed my life as a sufferer from generally oily skin, or teenage skin as some may call it – although being almost 20 and with no signs of it subsiding anytime soon, I'll refer to it as oily skin.
For £14, (with up to 30% off if you're a student making it only £9.80!) this oil-controlling lotion helps to restore skin balance and controls excess oil to help give you a shine-free, matte finish.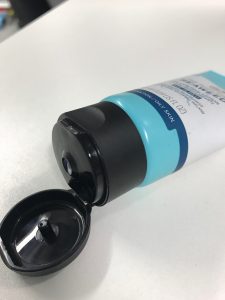 But how does it work you ask?
Well, one of the main ingredients is Glycerin, an ingredient which readily absorbs and retains water, keeping skin smooth and hydrated. This along with The Body Shop's touch of nature; in this case, mineral-rich seaweed from Roaring Water Bay, Ireland, creates a skin routine revolution.
Best of all, it contains SPF 15, keeping out all those nasty sun rays preventing premature ageing.
Why do we love it? It's cheap as hell! It flows easily and glides across the face and neck with ease. It does what it says it does and it's got an SPF. What's not to love?
It's a big yes from us.
Available for £14 in store and The Body Shop Online.