Turtle necks and how to style them
Winter season is always the best with cosy knits, patterned trousers and detailed boots, just to name a few.
On the second day of Christmas my true love gave to me, two turtle doves. So here at Fashion North, we have picked a few turtle neck style outfits that are right on trend this season. From colour co-ordination to accessories, we'll keep you warm and stylish through the most wonderful…but cold… time of the year.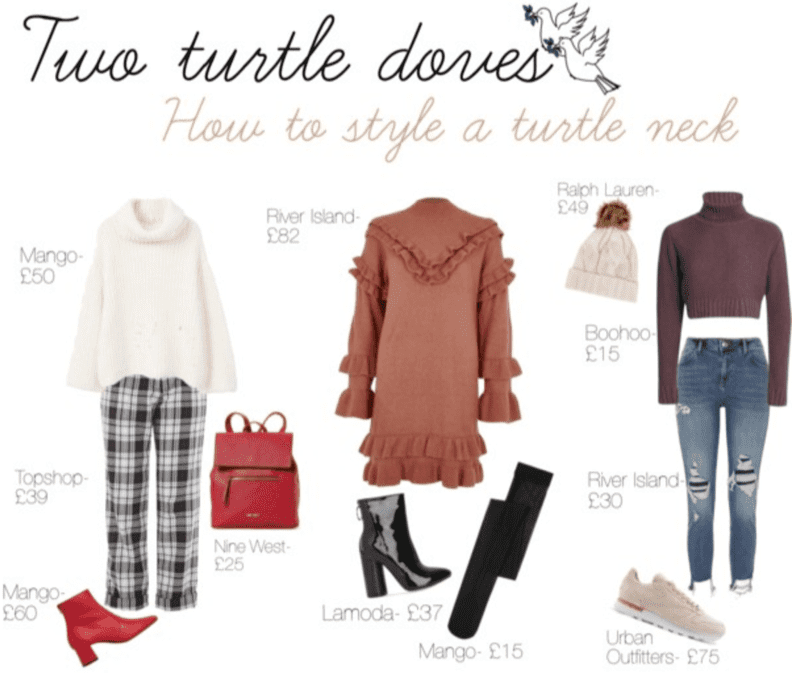 Look one
A large turtle neck jumper adds extra cosiness to an outfit. With a plain top half, be sure to add some funky trousers on the bottom and a pop of colour with your shoes and bag. Red is always a popular colour at Christmas but this year it's a brighter, bolder tone than ever.
Look two
If you're going somewhere nice, maybe a Christmas fayre or to the pub for mulled wine but don't want to be over dressed, then a knit turtle neck dress and a pair of shiny heeled boots is the best combo. You're saying 'I've made an effort but I'm also warm and cosy.' To keep those legs from freezing get yourself a pair of high denier tights too.
Look three
A cropped turtle neck jumper with high waisted jeans is a more casual look. If you're going on a winter dog walk or fetching the last of the Christmas presents, then a comfy pair of trainers is what you'll need. Don't forget a matching bobble hat or even a scarf to keep your entire body warm this season.
How many turtle necks do you own? Do you have a favourite? Tweet us and let us know @Fashion_North
Merry Christmas from the team🎄🎅🏻 X