By: Lauren Beesting and Megan Hagel
Some called it a posh bin bag but we're loving Daisy Ridley at this week's Star Wars premiere.
Daisy, 25, who plays Rey in the new movie The Force Awakens and The Last Jedi, stormed the Star Wars movie premiere in London in a dress from Calvin Klein's spring 2018 collection.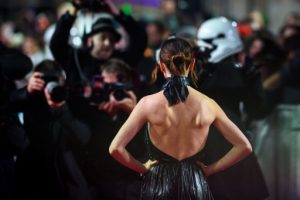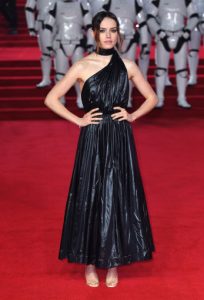 Making a dazzling entrance on the red carpet with her sci-fi styled black full-length nylon dress, the frock's shine reflecting Daisy's star qualities. The elegance of the draping skirt contrasted beautifully with the forceful choker neckline and the open back revealing her defined muscle.
She defines a strong yet chic woman of the 21st century, following the strong influence of feminism from Star Wars' original role model, Carrie Fisher.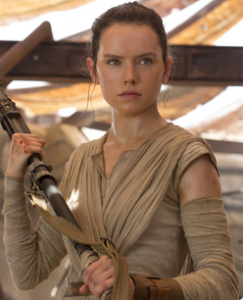 The force is strong with this one!
Steal the style!
Daisy Ridley's one shoulder nylon Calvin Klein ballgown stole the show at Star Wars' The Last Jedi premiere and with the Christmas season fast approaching we know how important it is to look your best. Although some likened Daisy's dress to a bin bag it took much influence from her character Rey and the draped and almost pleated shoulders that she embraces. To steal her look but for half the price Fashion North have got you sorted:
Misguided have the Calvin Klein inspired gown but with a holiday season twist. The gown is rouched down the side but keeps the one shoulder style that is so popular this fashion season. For just £35 it's a fashion steal!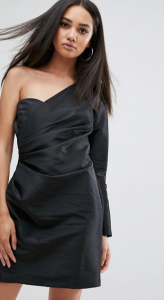 For the classy, business, chic look ASOS have a longer gown that is cinched at the waist with a stunning tie back detail. The stunning black gown is pleated, one shoulder and is the perfect Daisy Ridley dupe. At just £52 it's a must have.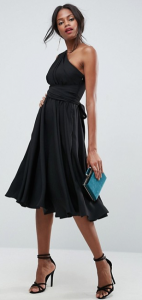 We'd love to see your forceful recreations so don't forget to tweet us at:
@fashion_north