Frills or ruffles? It's whatever you want to call it. But it's time to throw out the straight legs and bring these into your wardrobe.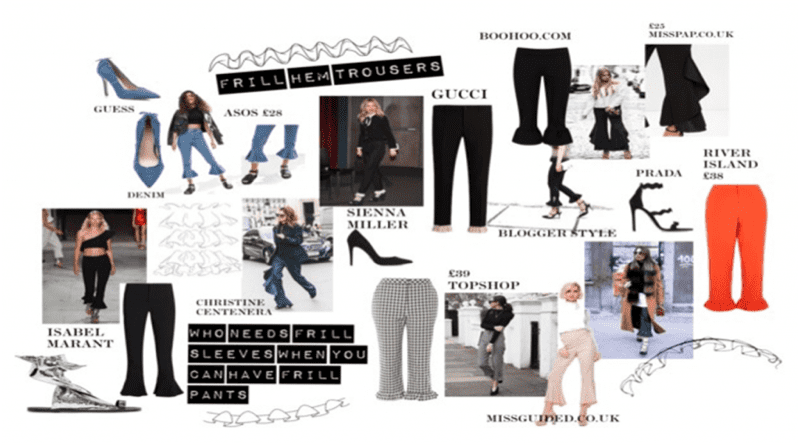 We've seen this trend spring from the catwalk to celeb style steals to high street snap ups and we love it. The 80's bell sleeve trend has came back in and we seen it all over, from tops to t-shirts to jumpers. But ask the question? Do you really need bell sleeves now when you can rock these pants? Or go all out and wear the full frill hem trend head-to-toe.
Whether you have major envy of Sienna Miller in her black and white Gucci frill hems or whether you want the high street dupes, they're all covered. From Gucci and Isabel Marant to Missguided and ASOS, the perfect prices are covered.
Ruffles are one of the most popular textiles decorations, so it's not surprise that these trousers are taking everyone by a storm. First and foremost, these pants don't have to be plain in one block colour. Topshop have added the latest gingham twist on the pants which gives you an extra reason to need them in your summer wardrobe, while ASOS have took on the always popular denim which can never go wrong.
Be extra sassy like Sienna and wear them with a matching frill shirt and heels or take it casual and tone it down with sandals and a simple tee. Whatever look you decide to go for, it's guaranteed that heads will be turning.
The best thing about these pants is that they look good in any fabric and any colour. It's rare to find that these days. The trend has arisen on the catwalks, the high street and celebrities sporting them. Isabel Marant is one of the designers to snap this trend, then moving on with high street brands such as Boohoo, River Island and Misspap stocking these pants with a less expensive price tag.
Sienna Millers statement look in New York at the promotion of her new film got took to the next level in her Gucci frill hem pants. Monochrome is always a good idea, but she made the trend look even better.
Want to look as hot as Sienna or be an "it girl" on Instagram? Here's the top 7 frill hem pants to look out for:
Womens Gingham Frill Hem Trousers- Topshop £39.00
Isabel Marant Black Hunter Ruffled Hem Trousers- £430.00
ASOS High Waist Denim Mom Jeans with Flared Frill Hem- £33.00
Megan Mckenna Black Flared Frill Hem Trousers- MissPap £25.00
Red Frill Hem Cropped Trouers- River Island £38.00
Missguided Premium Pink Satin Frill Hem Trousers- £25.00
Gucci Black Ruffle Trimmed Silk and Wool Blend Cady Trousers- £690.00