Over the years, wide-leg trousers have evolved from being just baggy trousers in plain colours like white and black.
The trend has moved from denim and chinos that have been sewn with full flare or tight high waisted pants with the full flare that were usually paired with t-shirts, chiffon tops, check tops or polka dots.
Fabrics like cotton twill, chino, gabardine, corduroy, silk, crepe, elastic and many more can be used to make wide feet trousers. These fabrics are made in different patterns ranging from polka dots, paisley, houndstooth, stripe, chevron, animal, plaid or check and many more.
In 1965, Paris dressmaker Bernard Sagardoy in the SS 1965 collection designed a wide feet trouser for evening wear paired with a bolero. It was a make a comeback outfit. Wide leg trousers were spotted throughout London fashion week by London fashion designer Bethany Williams. Her AW22/23 collection consisted of brown high waisted wide leg trousers paired with a zipper shirt worn by a female model. Toga Archives designed a model with a burgundy, wide-leg and a burgundy collar and revere coat that has a multicolour pleat.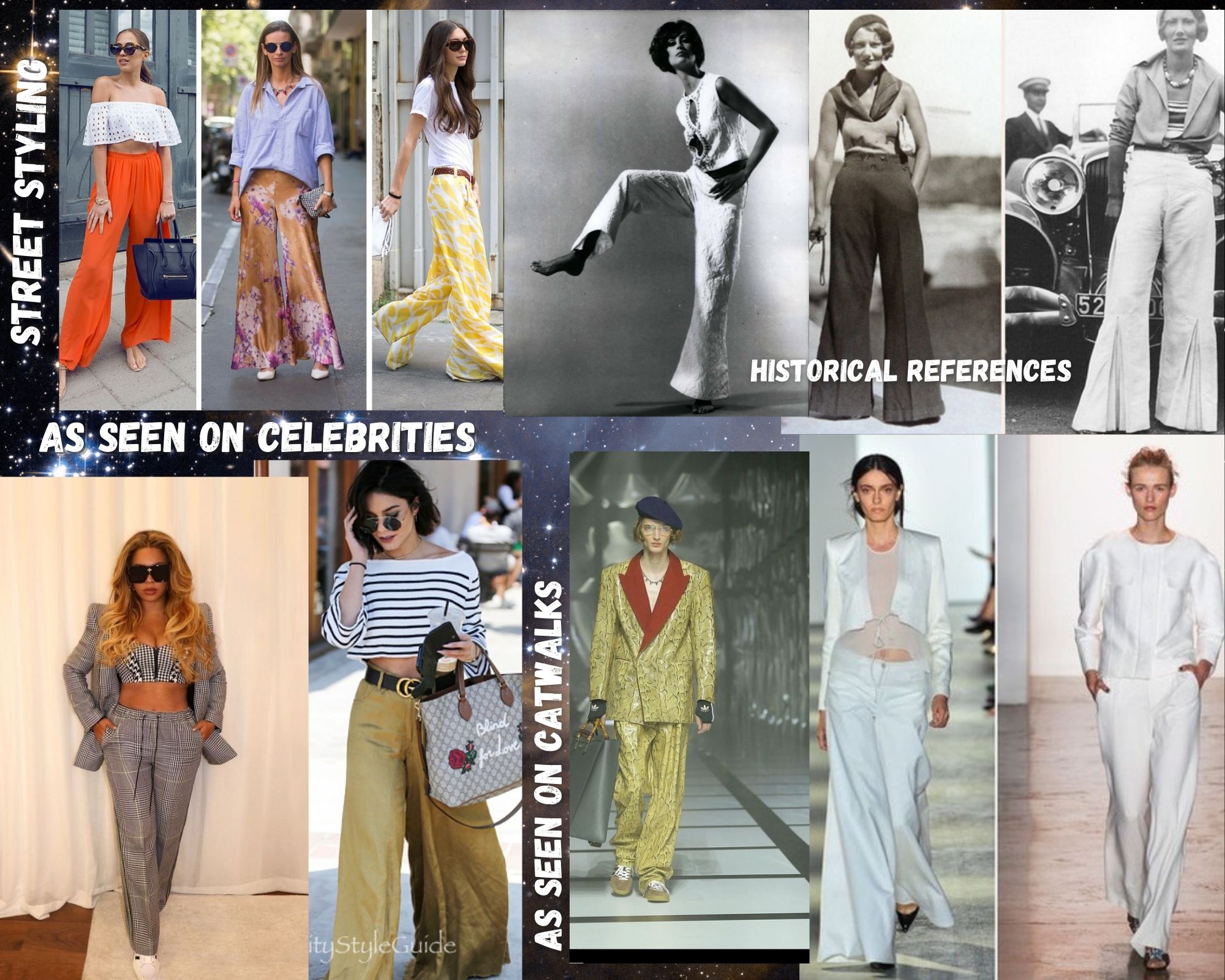 From the new Adidas and Gucci collection, during the Milan fashion week, Italian fashion designer Alessandro Michele styled a male model who wore snakeskin, baggy trousers and a coat with a red collar and revere.
Celebrities have been seen wearing wide feet trousers on different occasions such as the high waisted full flare trousers or tight upper pants. There are many different styles of wide-leg trousers such as the classic wide leg, palazzo pants, cropped wide pants, wide-leg dress pants, wide leisure pants, sporty wide leg and drawstring wide leg trousers. This garment can be paired with shirts, coats, jackets and sweatshirts.
Beyonce in one of her Instagram posts wore a houndstooth drawstring straight wide feet, paired with a scoop neckline crop top and a collar and revere jacket.
As spring summer approaches, one can go with a flowery, high waist wide feet trouser with full flared and a bodysuit of any colour to pair.
Wide leg trousers are seeping through the society with both males and females of different age groups styling them differently both male and female.
Depending on what top you want to wear, wide feet can be paired with different tops like a bodysuit, mameluke sleeve tops, off-shoulder tops, V-neck top, chiffon tops, t-shirts, roll neck tops and many more depending on what suits a different individual.
As some people would prefer to wear it with a crop top, others might want to tuck in their shirt or tops, others want to leave it all out or some people may want to leave the front tucked in, or just one part of the shirt out.
As different shades, patterns and designs appear on the runway, high street and celebrities, wide-leg trousers are taking a toll in SS22/23.
What are your thoughts on the latest trend? Tweet us @Fashion_North.