Ever since Ariana Grande surprise-dropped Thank U, Next earlier this month, the song dedicated to her exes has had us all – single or not – embracing the song as a break-up anthem.
Not content with taking over the charts, the singer has recently been causing a storm on Instagram by keeping fans guessing what the theme of the video will be and now just to make our lives complete she has FINALLY released the trailer.
View this post on Instagram
Over the last week the singer has posted a series of Polaroid pictures onto her insta that have hinted to four major teen films being involved in the vid. The trailer itself is a shout-out to Mean Girls (2004) and is bringing us all some serious 2000 fashion nostalgia.
Here we take a fond look back at the movies set to feature in the video and the classic outfits that we hope will be recreated.
The first post showed the songstress posing with an orange Apple laptop:
To which eagle-eyed fans noticed was the exact same laptop used by fashionista Elle Woods in Legally Blonde in 2001.
The caption is also a quote from the movie where wannabe lawyer Elle, played by Reese Witherspoon states that 'whoever said that orange is the new pink was seriously disturbed'. The character was known for her love of pink and who can forget the time she channeled a Barbie Jackie Kennedy in Legally Blonde 2.
Or went retro for the courtroom in this 70s inspired two-tone pink faux wrap dress.
If this selfie with Jennifer Coolidge is anything to go by we could be expecting a cameo from Elle's best friend (and true heroine of the film) Paulette Bonafonte.
View this post on Instagram
So be prepared to bring back the bend 'n' snap!
Next to be teased was a black and white image of the dream house from 13 going on 30 (2004) which was given by Young Matt (Sean Marquette) to Young Jenna (Christa B. Allen).
View this post on Instagram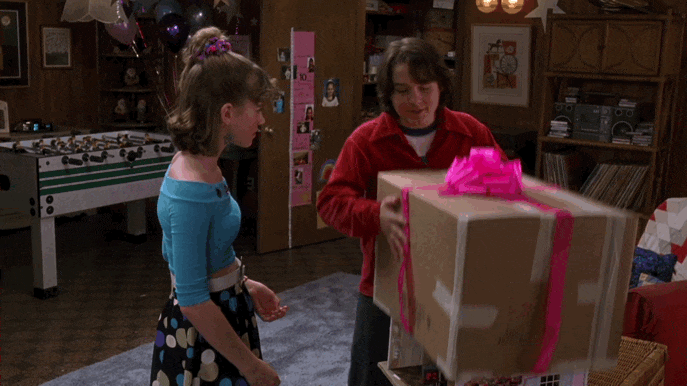 GIF via GIPHY.COM
We wonder if Ariana will pay homage to the 80s and the six chicks in the film or if she'll recreate the famous Thriller dance scene where older Jenna (Jennifer Garner) wore that dress. 
Next up was a set of BTS snaps showing the songstress dressed in a cheerleader outfit, which is pretty standard for any video shot in an American High school let's be honest. So, it wasn't until she posted this image, that we had an incline of the next movie.
View this post on Instagram
The last time we saw Cheerleaders that fierce was in the year 2000 when the first Bring It On film was released. Here's the East Compton Clovers in action.
 Credit: YouTube via WILLOUGHVEVO
Eliza Dushku who played Missy Pantone in the film tweeted her support by quoting one of the film's best-known lines.
😏 it's bein' brought'n. @ArianaGrande 👯‍♀️ 👏🤸🏻‍♀️ https://t.co/SUqTuBwt2Y

— Eliza Dushku (@elizadushku) November 22, 2018
Even though the majority of the film is spent in competition gear – giving us major ab envy – these red and black cheerleader outfits have been many a go-to Halloween or fancy dress idea for years – literally any excuse to be a Toro.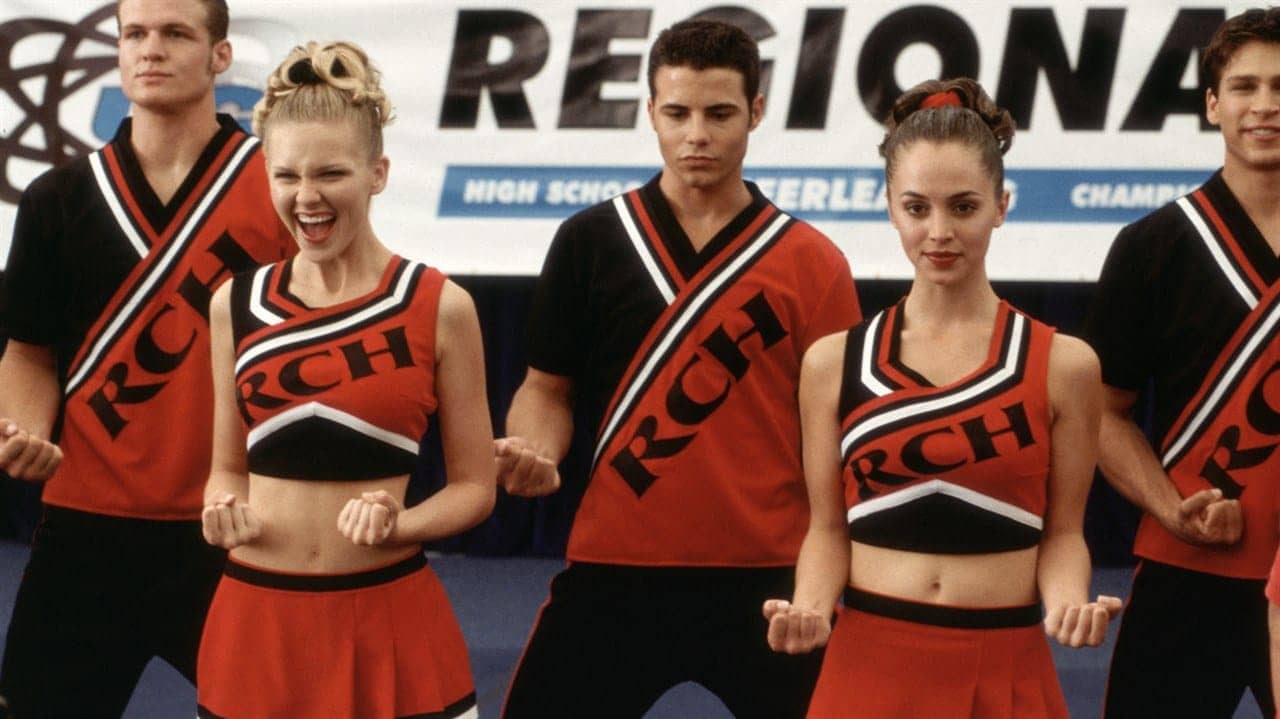 Credit: Beacon Pictures
Colleen Ballinger – YouTube personality famous for Miranda Sings and one of Ariana's close friends posted this sneak peek on her own Instagram, where she plays a (very heavily) pregnant cheerleader. Colleen also stars in the trailer and is actually (very heavily) pregnant in real life.
View this post on Instagram
And perhaps the most anticipated clue of all – The Burn Book. Ariana released an image seemingly replicating the infamous Burn Book out of Mean Girls.
View this post on Instagram
In the film, Regina George (played by Rachel McAdams) and 'the plastics' write gossip, start rumours and basically tear up fellow students/staff in the Burn Book. Maybe Ariana is writing about the exes she refers to in Thank U, Next, apart from Malcolm a.k.a Mac Miller who she refers to as being an angel in the song.
On Wednesday's we wear pink.
BTS images already show Ariana evoking Queen B Regina:
View this post on Instagram
And the real life Aaron Samuels – Jonathan Bennett even features.
View this post on Instagram
Since it's the run up to Christmas we sincerely hope that these famous outfits make a return.
The full-length video is set to be released this Friday 30th November and until then we will be binge-watching each of these movies and exercising only by lifting popcorn from bowl to mouth because you know, 'exercise releases endorphins and endorphins make you happy.'
The Dangerous Woman Diaries' documentary drops tomorrow also.
What outfits do you want to see recreated?   Tweet us @Fashion_North