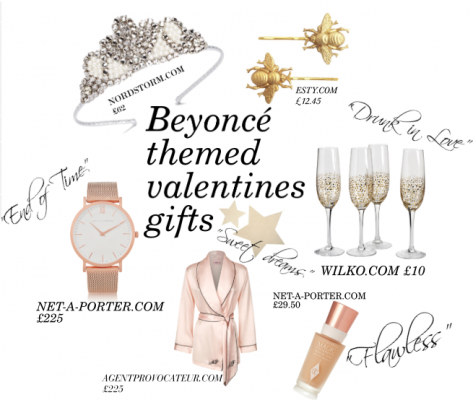 The name Beyonce is on everyones lips at the moment with announcing her Formation world tour, thankfully Queen Bee is gracing us with her presence in Sunderland on June 28, 2016. Until then, we can lust over everything related to Beyonce, as Valentines day is around the corner we thought at Fashion North we would celebrate whether you're single or in a relationship you can take some inspiration from our Beyonce themed gift guide!
As Beyonce brings hit after hit, the items reflect her song titles, we've included gifts to cater whether your relaxing at home or having a date somewhere fancy!
If you are single, the Treat Yo' Self motto comes into play when putting this pyjama top in the guide gift. At £225 from Agent Provocateur, it's cheap, but your worth it, so why not.
We've also included a tiara where you can prance around in your pyjamas and be the princess you really are.
Staying in with the girls? We've got it covered, popping bottles of champagne made easy peasy with these gorgeous glitter covered champagne from Wilkinsons for only £10. I want these myself, the classic design means they can be used all year round. Even more reasons to buy these!
Heading out with your beloved? Keeping in theme with Beyonce, feeling flawless is essential. Charlotte Tilbury is to be believed to be the new best make-up brand, so treat your skin to a new foundation which creates a dewy finish.
If you were struggling for last minute gifts, I hope this last minute round up has got you covered. From everyone at Fashion North, have a fabulous valentines day!