While once considered an elusive commodity, cashmere is now more readily available than ever before, but how sustainable is our lust for luxe? Fashion North's Christy Laverty examines the effects of cashmere and the shift to recycled fibres.
As brands continue to lessen their cruelty footprint and boost their sustainability, the demand for luxury fibres, particularly cashmere, leads to an ethical dilemma on a large scale. It is this ethical dilemma that is shifting brands towards sustainable methods of producing garments using the jewel in the crown of fabrics. The recycling of cashmere is gaining momentum from both high-end fashion houses and high street staples.
It was in 1990 that Edoardo Mariotti founded his company TESMA Cashmere. Coming from the wool, cashmere and mohair sector he took his years of expertise and created a new entrepreneurial and sustainable project which has since grown to the leading process of recycling cashmere. Coming up to their 30th anniversary TESMA has expanded to a 1500 square metre headquarters dedicated to production, administration and commercial offices in Montemurlo found in the Tuscany region of Italy.
Laura Dudi, who works at TESMA, states that: "The main activity of TESMA cashmere is concentrated in the recycling of pure cashmere sweaters from all over the world".
The main countries from which TESMA is buying post-consumer sweaters are the United States and the United Kingdom. The stricter regulations and checks on goods can guarantee the authenticity of the cashmere: "Thanks to product labelling laws in these countries we can be assured that post-consumer sweaters labelled as cashmere are really pure cashmere," Laura explained.
Once considered an elusive commodity with four goats being needed to produce enough yarn for one jumper in comparison to one sheep producing enough wool to create for five, the cashmere industry has undergone massive disruption. Cashmere is now available at much lower price points in various types of retailers such as supermarkets creating a higher demand. This increased demand has caused detrimental effects for the flora and fauna of the landscapes in which pashmina goats are reared.
This is where the recycling comes in. The production is carefully analysed to measure its environmental impact in terms of consumption of water, energy and CO2. For every kilogram of fabric produced with virgin wool the impact of CO2 is 9kg in comparison to 0.5kg for a regenerated wool product.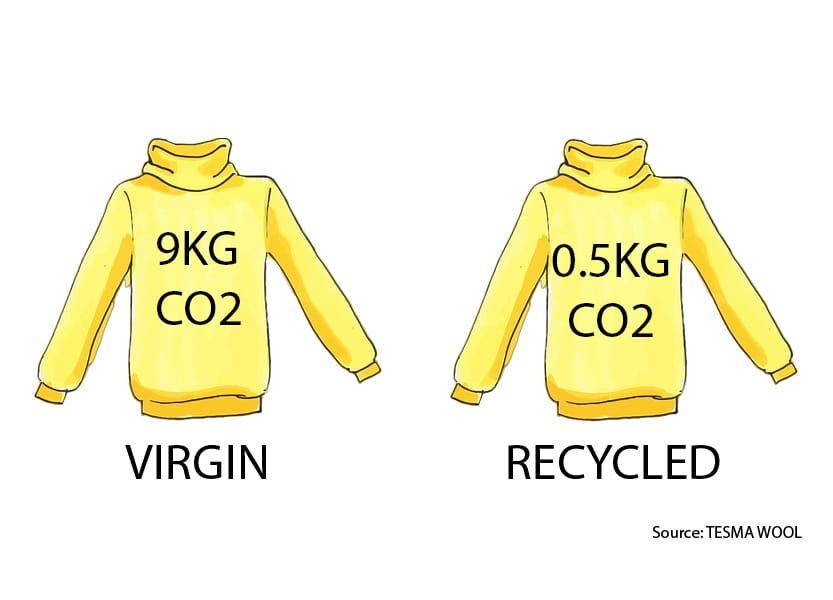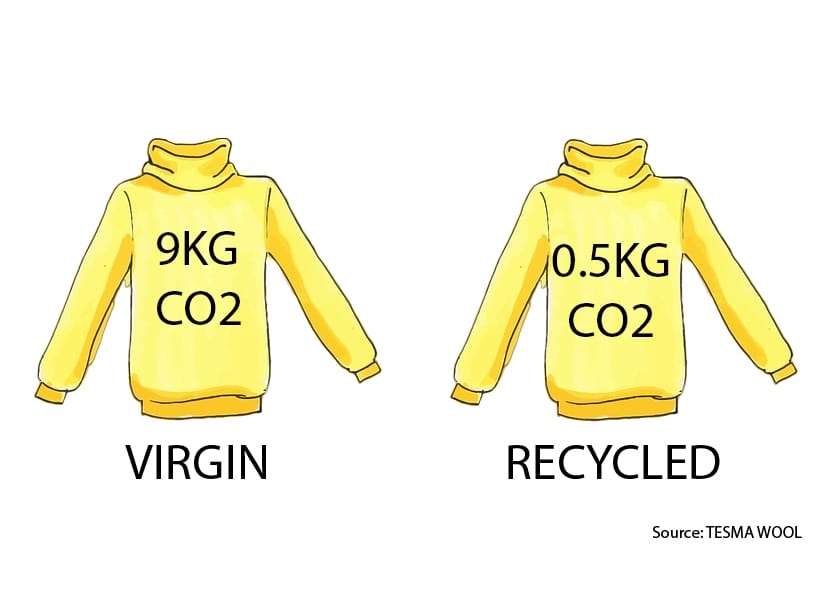 The process of recycling the garments however is not an easy one. After the receipt of full containers of old jumpers at their warehouse, garments are selected and processed by TESMA to a rigorous standard. Things such as cleaning labels, zips and buttons are removed to leave behind only pure cashmere. The meshes of fabric are subdivided by colour and then passed to special textile combs constructed not to attack the fibre, but to return it to its original state. This helps to maintain all the features we've come to expect from cashmere such as its softness and durability. The recycled cashmere fibres obtained through this process are then used to create 100% recycled cashmere products. Other times the Recycled fibre is mixed with new virgin cashmere.
American outdoor brand Patagonia uses this method when creating garments for their recycled cashmere rang. A spokesperson for Patagonia said, "We get our recycled cashmere for garment factories that sort and shred old products to create new cashmere yarn that's blended with 5% virgin wool for strength and durability." Patagonia says that their method creates a much lower ecological impact than products made with virgin cashmere.
While LVMH fashion houses such as flagship Louis Vuitton as well as Dior, Fendi and Loro Piana do not use recycled cashmere they are actively evolving and seeking ways to ensure the production of cashmere is as ethical as possible. A spokesperson from LVMH said, "Our Houses are aware of their responsibility in the well-being and conservation of the animals raised for their wool. Several projects are also being monitored and deployed by LVMH and its Houses for the cashmere supply chain via the Sustainable Fibre Alliance and the Textile Exchange platform." The only LVMH brand currently embracing recycled cashmere is Stella McCartney – a decision which was made pre to LVMH investment.
Also in late 2018, Kering, the conglomerate behind brands such as Gucci and Alexander McQueen along with the Savory Institute, an American charitable organisation, launched the fashion industry's first verified ecological supply chain. Through this partnership, Kering has identified and developed a new network of farms from which they can source sustainable materials.
The Textile Exchange acknowledges the crucial importance of recycling for the growth of a sustainable production and consumption model. It aims to encourage the reduction of resource consumption (virgin raw materials, water and energy) and to increase the quality of recycled products. They achieve this through their promotion of the Global Recycle Standard, a scheme which certifies products obtained from recycled materials and manufacturing actives.
The major concern with recycling cashmere is that it will hinder the quality of the product. Laura Dudi ensures that this is not the case. The fibres are broken back down into their original state and respun to the highest of standards very much in the same way virgin cashmere is.
The end goal is not to stop production of virgin cashmere but to introduce the idea that its production has to be handled more responsibly. With major fashion conglomerates backing the Sustainable Fibre Alliance (SFA) who work with cashmere farmers in Mongolia to protect the quality of cashmere produced as well as educating farmers on the ecological impact rearer pashmina goats has. The SFA aims to create a fully accredited cashmere supply chain as the demand for cashmere grows each year.