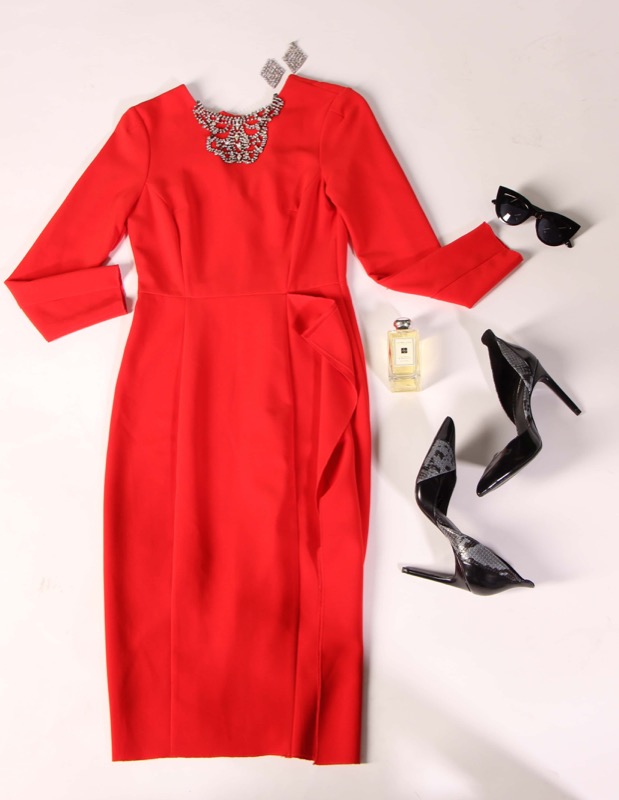 Date night can be a chilled evening in the house with your favourite fizz and takeaway or it could be an a dressed up occasion. Going out to your favourite fancy restaurant in your new red dress with your staple fragrance makes you feel a million dollars.
Red is such a eye-catching colour that is simply not worn often enough. The slim fitted red frill dress is from H&M, often understated, this high street brand pulls out no stops on this dress.
Accessories can make or break an outfit, they can transform an ordinary outfit into haute couture-esque. Yep, it's an adventurous goal but possible with the right accessories.
My chosen additions would be this Victorian style draped necklace and matching drop earrings to give the outfit some glam, block colours would work for daytime but night time is when you can get your favourite jewels out. Cat eye sunglasses are the ultimate thing to team with your date night look, just imagine how perfect these would look on holiday when the sun is setting!
Heels and fragrance go hand in hand, a good quality perfume or pair of heels can last a good while. Jo Malone is one of my all time favourites, when first sprayed it can be a bit overwhelming but after 30 seconds the lasting scent is worth the price tag. I love mix and matching prints and textures so I would pick my ZARA black and subtle navy blue heels to add a edge to the outfit.
PERFUME- http://www.jomalone.co.uk/product/3580/10101/fragrances/colognes/citrus/lime-basil-mandarin-cologne/lime-basil-mandarin-cologne
DRESS – http://www2.hm.com/en_gb/productpage.0432620005.html
Similar Products –
NECKLACE – Stylists Own.
HEELS -http://www.zara.com/uk/en/woman/shoes/view-all/limited-edition-leather-high-heel-shoes-c719531p4283075.html
EARINGS- http://madaboutjewellery.com/Deco-Diamond-Drop-Earrings-Gold
SUNGLASSES- http://www.asos.com/asos/asos-flat-top-cat-eye-sunglasses-with-full-metal-sandwich/prd/7089544?iid=7089544&clr=Black&SearchQuery=cat%20eye&pgesize=36&pge=0&totalstyles=100&gridsize=3&gridrow=6&gridcolumn=2