Love Island's Chris Hughes certainly knows how to attract controversy, if he isn't shaming Katie Price on social media or arguing with Rylan Clark at the Specsavers Awards over the spat. He is now causing more controversy with the launch of his very own tear infused water bottle, in partnership with Topman.
People speculated that the launch of L'Eau De Chris tear infused water was a prank, however on October 10 on World Mental Health Day it was apparent it was not a prank and the real reason behind the product was revealed.
This reason being that Chris has suffered silently with mental health before seeking help. This experience has enabled him to become the new ambassador for the male suicide charity CALM (Campaign Against Living Miserably) to raise awareness about male suicide.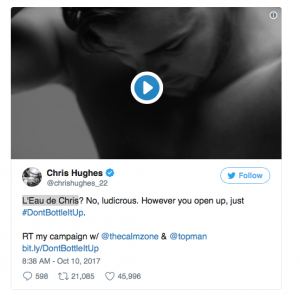 The new product L'Eau De Chris has been released to change male cultures preception that prevents men from opening up and seeking help for mental health issues. The campaign #DontBottleItUp is working alongside Topman who are fully backing the charity CALM as they are conducting a pants pledge, meaning for every pack of Topman underwear sold they are donating £2 to CALM in aid of preventing male suicide.
If you are suffering in silence call 0800 58 58 58, alternatively you can visit https://www.thecalmzone.net for more information.