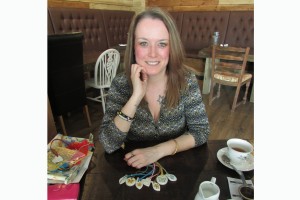 Lois Gray, 49, is an A&E worker and talented jewellery maker who is currently working on her own business, Malaika Ceramics. Lois is an extremely determined individual who would love nothing more than to be able to quit her job and concentrate full time on her jewellery making business. Until then however, she will remain helping the people of Sunderland with their emergency hospital trips.
After originally telling her four-year-old nephew he could name the company, and having him choose 'stinky pigs', Lois decided against that and decided to go with something with a significant meaning behind it.
The name Malaika actually carries a rather interesting story with it. Lois herself has a lot of African relatives and friends, and Malaika is an African term of endearment. The word means Angel.
Malaika Ceramics is a company based in North East England and is well-known for it's homemade and home decorated ceramic pendants and broaches. Lois works from her home in Sunderland and keeps all of her equipment and machines in her loft.
Lois said: "I would love to have my very own workshop one day, so I'm not confined to my loft".
Each piece Lois makes is made by hand and takes around thirty minutes to mould.
It is a very time consuming process however as Lois is very passionate about making ceramics it is used by her as an escapism from real life.
In the future, Lois hopes she can introduce more items to Malaika Ceramics such as plaques, pottery, teapots and crests.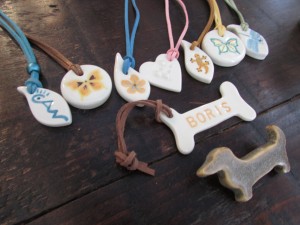 Malaika Ceramics was originally brought to life when Lois began messing around with clay in August of 2015, and realised she could mould the clay into particular shapes and items which she loved. She recalls: "Some of the first pieces I did, I look back now and think about how embarrassing they are, but at the time I thought they were amazing".
Lois is also very family orientated. She would love to be able to spend more time with her family but working a full time job and managing her business leaves her limited for time.
She explains: "It's really hard to get a good work / life balance, especially as my job requires I work a lot of night shifts, it's hard to find the time to fit everything in.
"I prefer to go for quality over quantity, I'm quite a perfectionist so I wouldn't sell something if it's got a little dint in or something's not quite right".
Lois hopes that if the business gets big enough she can quit her job and take up jewellery making full time. This would mean the products would become more widely available in comparison to the few that are available now.
In regards to the quality of the products, Lois explains to me the problems she is having with the catches of the necklaces. The supplier she is currently using has sent her poor quality silver plated catches which are breaking easily on customers; "This is really annoying for me, like I said I'm a bit of a perfectionist so I hate to see my products not being up to scratch".
She is looking into changing the catches she uses in order to improve the quality of her products.
Malaika Ceramics back then was the I CAN project based in London. The I CAN project was founded by Dwayne Patrick and it was set up in order to inspire children to believe that they are capable of anything. It helps them to achieve their goals and is supporting communities of London. Lois has designed and made pieces for this particular project and is hoping to develop with them further in the future.
Malaika Ceramics has an active profile on Facebook which is a great follow, and Lois is planning on creating Twitter and Instagram pages for the business so customers can get more insight into the company and collections.
Lois's collection starts from as little as £5 so is very purse friendly.
Her collection is available at www.malaika-ceramics.com