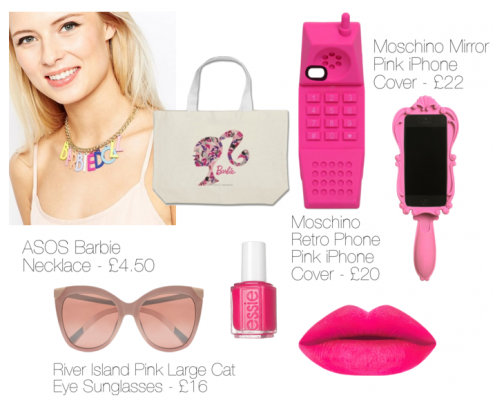 It's national Barbie Day, a day of celebration for our most beloved childhood toy.
She was the ultimate fashion icon for our generation and even to this day we are still inspired by her style.
She empowers feminism and independence, and has recently taken Instagram by storm with her Barbie style page; she's so much more than a blonde haired plastic doll embossed with a Mattel stamp.
Here at Fashion North, we found the top 7 Barbie accessories out there that will add a touch of Barbie sparkle to any outfit!
1 – Barbie totes are great for folding up and keeping in your handbag for those last minute shopping trips. Not only do they save you buying plastic bags, not that we mind a bit of plastic, but they look great and instantly add a touch of character. There are loads of different styles to choose from on www.redbubble.com ranging from £12, here's my favourite.
2 – Everyone has a phone, everyone has a phone case. But not everyone has a Barbie phone case. Do you remember the 90s board game Dream Phone with the big chunky 'at the time coolest thing in the world' pink phone? Well my fellow Barbie fans, if you want to adorn your phone with a Barbie inspired phone case then Moschino is your new best friend. Super hard to get hold of because they are from the SS15 collection but there are still some online at www.luisaviaroma.com.
3 – We all need a bit of sparkle in our lives and these Barbie set of three stacking bracelets will give you just that. Each delicate bracelet has a charm that work just as good stacked as they do individually. There is so much Barbie jewellery out there that adding a touch of Barbie to your day has never been easier. On www.truffleshuffle.co.uk they have a vast range of Barbie inspired bracelets and necklaces for amazing prices.
4 – If you're more of just a necklace girl, then ASOS have the matching necklace to the above bracelets from Truffle Shuffle. This Barbie necklace will instantly add a delicate and feminine look to any outfit and the multi-row style is bang on trend.
5 – Barbie loves a good pair of sunglasses, just look at her Instagram account. There a tonnes on the high street at the moment with the hopefulness of a few rays but River Island currently have the perfect pair that not only do their job, but the pink frames look every inch Barbie, very glamorous and girly.
6- Do you dream of living in the Barbie Dream House? Well, add this to your set of keys and you're half way there. Again from www.truffleshuffle.co.uk and its Barbie range, this subtle Barbie key ring is a perfect mature touch to release your inner child.
7 – Sometimes things need revamping like the look of your laptop that has been the same since you brought it years ago. Laptop stickers might seem like a lot of hassle but they look great, and in a strange way more valuable, I think it's because of the personalisation. There are a select few Barbie laptop stickers available at www.redbubble.com ranging from £18.
Follow her page BARBIESTYLE on Instagram to see her collaborations with fashion houses such as Moschino and Valentino.
Tweet us @Fashion_North and let us know how you're celebrating National Barbie Day!