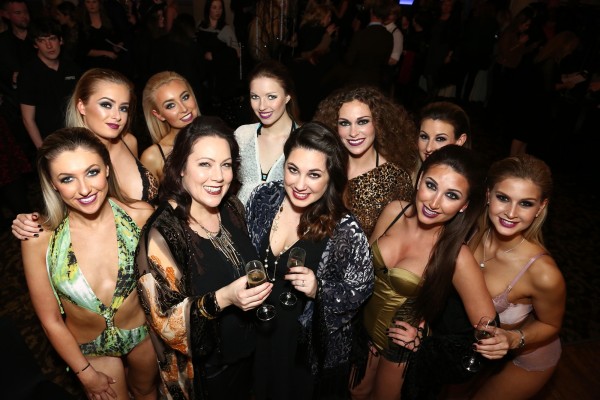 A new lingerie and swimwear brand offering "affordable luxury" has launched in Newcastle, with the ambition of putting the city "on the fashion map".
The Black Velvet label was unveiled in a glittering and exclusive event at Newcastle's historic Assembly Rooms on February 13.
It's co-founders and designers, Alessandra Bersan and Margaux Wild, are calling on their cosmopolitan fashion backgrounds to ensure the business proves as successful as its launch evening.
Alessandra, originally from Italy, has worked for legendary fashion house Dolce & Gabbana and other major companies, while Margaux has an impressive CV at high-level firms in the UK and her native South Africa.
Both are determined that Black Velvet will soon be stocked by high-density retailers in Newcastle and beyond.
The luxurious label came to life within the walls of the historic building, a catwalk was set, interior decorated to fit the mood of the brand and drinks flowing for guests coming in.
Margaux said: "The Assembly rooms was a perfect setting for us as its a very elegant and decadent venue which we knew from the start was right to showcase our collection, it just clicked!
"Our brand is luxurious, and the quality and workmanship we think is fantastic too, so we felt the fit with a stunning venue would help bring to life what we are trying to achieve.
"We want to put Newcastle on the map in terms of fashion, and hope to do this through Black Velvet. Our pieces are unique, and we also wanted to have some fun with colours and prints."
Alessandra said: "The aim is to offer 'Affordable Luxury', we are two regular people who don't want to take advantage on pricing, and at the same time offer everyone luxurious products at a reasonable price. At the moment we believe there is a gap in the market for that"
When will we be seeing this brand in the shops near us? Alessandra said: "We hope to offer the public our brand in the very near future, our brand will be nationwide, and worldwide, but of course the focus will be offering to stockists locally."
You might be seeing this independent brand soon in your favourite retailers so keep your eyes peeled for this; it's one not too be missed!