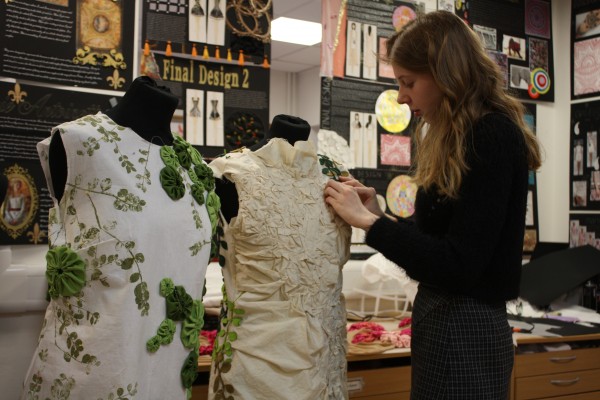 London Fashion Week may be over but catwalk action will be taking place closer to home this Friday, 26 February, when Newcastle High School for Girls stages its annual Fashion and Textiles show.
Garments and full collections designed and made by Senior School girls aged from 13 – 18 years old will grace the catwalk in two shows that will be choreographed, staged and modelled by the girls themselves.
Nine A Level Textile students will show full collections of two to three outfits inspired by a wide range of themes; from archetypal English hunting, fishing, shooting wear to war and the human body.
Among the collections is 17 year old, Tilly England's 'Rule Brittania' inspired range of garments. Tilly, from Corbridge, was inspired by the doyenne of punk, Vivienne Westwood, and traditional English country pastimes and has combined the two in a collection of tailoring, tweeds and tartans. A tailored red hunting jacket teamed with a pheasant feather embellished skirt will grace the catwalk, alongside a signature Westwood-esque Tartan fitted jacket worn with white embellished leggings.
Tilly said: "I would love to work in the fashion industry. Having to produce our collections under tight time constraints and get them catwalk ready has given us all a tremendous insight into the industry, as well as allowing us to explore our creative ideas.
"I am looking forward to the show but as a designer, I don't think you are ever satisfied. There is always more you could add or do to your designs."
Another student, Anna Stevens, has been heavily influenced by current global unrest and war and has worked to produce designs that have current, as well as historic meaning.
Corsetry and caged skirts form the basis of her collection with camouflage embroidery, khaki ruffles and images of war transferred onto fabric echoing the war and military theme throughout.
 The 17-year-old from Jesmond said: "Next year I want to build on my skills by taking a foundation course in Art and Design. I have explored other aspects of design through work experience and ideally I would like to take a fashion related degree in the future."
Alison Goldie, Head of Creative Arts at Newcastle High, said: "Our annual Fashion Show is the pinnacle of two years work for those studying A Level.
"I never cease to be amazed by the creativity of our girls and by the expert execution of their ideas, both are clearly evident in the exquisite garments on the runway.
"We will also be showcasing the work of girls as young as 13 who are starting out on their creative journeys, the quality of their work belie their age and experience.
"All garments have been designed with the catwalk in mind, which forces the girls to combine their creativity with consideration for how best to showcase their work alongside music, choreography and lighting.  This year, as ever, the girls have impressed me with their composure in the face of pressing deadlines and a catwalk show looming."
Newcastle High has a long and illustrious history in creative arts with alumnae including Lauren Anderson, Charis Younger, Evie Turley, Jenni Moore, Chloe Cooper and Caroline Legg, all work in fashion or are studying for a degree in fashion.
Charis now works as a womenswear designer for the trendsetting fashion retailer H and M.
The highly successful designer Fiona Sinha also attended the school, before going on to study fashion at Central Saint Martins where she met her design partner Aleksandar Stanic and designed under their label, Sinha-Stanic and also for Alexander McQueen's McQ label.
A number of the girls are keen to go on to study Art and Fashion Design when they leave school in the summer.