Claire McAlpine, Anna Kirkup and Eliza Browne-Swinburne, from Northumberland, sell unique textiles, ceramics and home wares from three continents on their unique homeware website, ibbi.
As countries across the world celebrate International Women's Day today, Tuesday 8 March, the three mums are putting into practice the aims of the event; to celebrate the social, economic, cultural and political achievement of women.
Claire, Anna and Eliza founded ibbi with the aim of supporting the artisan crafts of impoverished communities and have, so far, sourced items from India, South Africa, Kenya, Burkina Faso, Peru and Guatemala.
Following a recent journey to some of India's most historic and remote cities, they have not only expanded their range, but forged links with artisan craftspeople and suppliers – many of whom are women – throughout the continent.
Among the collections sourced by ibbi are block printed textiles from Jaipur, vibrant sisal baskets from Kenya and vintage kantha throws from West Bengal.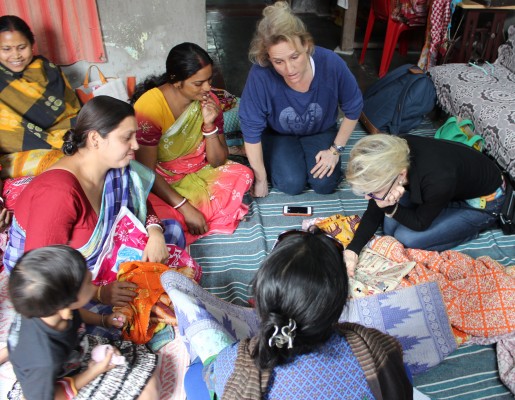 The team has also unearthed vintage treasures and old embroideries from Rajasthan, delicately hand painted ceramics from South Africa and even highly decorative dodo shaped watering cans from Jodhpur.
Claire McAlpine said: "We believe the best form of aid is trade. By buying from artisan producers in Jaipur, for example – a city famed for the quality of its textiles – we can support traditional craftsmanship on one hand and bring practical, beautiful and affordable pieces to the market, on the other.
"Some of these items, although exquisite, have been created in areas of great poverty and women are very much at the heart of these communities.
"Our weavers and sewers of our products are all women. Very often they are not only holding families together but, through their craft skills, are the main breadwinners, so it's vital that we support them."
For details, or to purchase items from the ibbi range, call 01830 530433 or visit www.ibbidirect.co.uk.