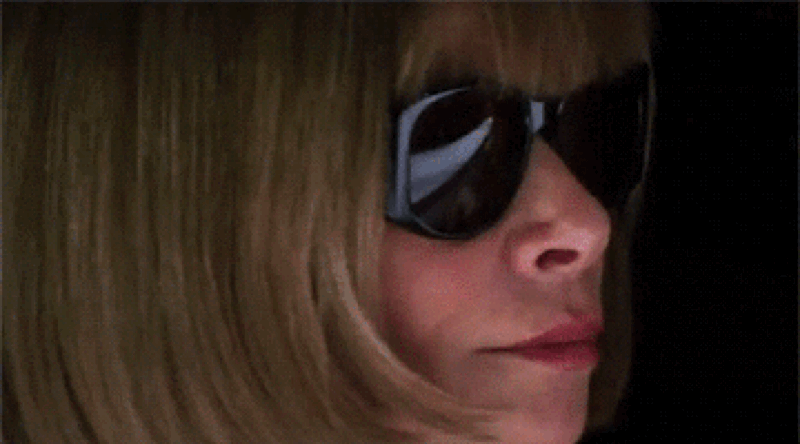 To celebrate International Women's Day we have compiled a list of the 10 best women in fashion – women who have changed fashion and had an impact on how it has formed into the modern day industry it now is.
1. Anna Wintour
Arguably the Queen of fashion. The woman who truly has shaped the fashion industry during her time at American Vogue. Noticeable by her bob and dark sunglasses Wintour sits on every front row scrutinising designers as to whether they will make it within the pages of Vogue next season. Editor, OBE, creative director, political supporter and a huge influence on charities globally means she deserves first place on this list.
2. Grace Coddington
Anna Wintour's right hand woman, Grace Coddington is a woman everyone fell in love with thanks to The September Issue. A true visionary that puts so much creativity into her work as creative director for American Vogue her editorials look more like dreams than fashion shoots. Her creative attitude and true love for fashion is enviable as well as her natural talent for style.
3. Natalie Massenet
Dame Natalie Massanet fashion entrepreneur and former journalist founded the designer fashion site Net-a-Porter as well being chairman of the British Fashion Council. Starting the business from Massenet's flat in Chelsea the concept of the site was to be able to 'click' on an image of an outfit within a magazine format and buy it. Net-a-Porter is now an international company employing 2,600 people in the UK, US and Hong Kong with offices in Shanghai the Net-a-Porter Group is now estimated as a £350m company.
4. Diane Von Furstenburg
Eighteen months before Diane Von Furstenburg was born her mother was in a Concentration Camp. Going on to study economics and marrying a Prince Von Furstenbug has come an incredibly long way from a little girl born in Brussels. Inventing the wrap dress, providing comfort to women across the globe, being listed as the 68th most powerful woman in the world by Forbes and her company having 85 stores worldwide it is no wonder this lady made it onto the list.
5. Miuccia Prada
Miuccia Prada had been a student of both politics and mime, not design, but her strong sense of fashion meant that she has changed the success of Prada. With the company expanding into several brands like the Miu Miu label, named after Miuccia herself, Prada has come full circle with its heritage and this is reflective in the brands steady sales. As well as her incredible designs for The Great Gatsby movie, Miuccia deserves a fashion OBE for her work for the movie alone.
6. Sarah Burton
After taking the helm of Alexander McQueen back in 2010 Sarah Burton has continued Lee McQueen's vision for the brand while adding her own stamp and style to boost sales and deliver truly extraordinary ready to wear clothes twice a year. A brand that takes fashion as art to the next level and never fails to deliver the best themed shows which everyone in the industry wishes to bag front row seats.
7. Victoria Beckham
She has come a long way since Posh Spice from girl band the Spice Girls. Beckham's eponymous label was launched in September 2008 with a low-key presentation making it to New York Fashion Week 2011 as well as launching a cheaper sister line Victoria by Victoria Beckham. In the first quarter of 2011-12 alone, it was predicted to have generated annual sales of more than £60 million.
8. Coco Chanel
Coco Chanel changed the way women dressed from a very early stage. Encouraging women to step away from corsets and tight restrictive clothing and saying it is okay to wear trousers and dare I say it jersey. Starting off as an orphan eventually making hats she launched her label which is still active today and has had a huge influence on how we see fashion today.
9. Carine Roitfeld
Carine Roitfeld could have made it onto this list from her dress sense alone. Working as the Editor of French Vogue for 10 years and eventually 'giving up her grown' as she describes she bravely launched her own magazine the CR Fashion Book in 2013 Roitfeld writes her own rules for fashion and as she is best friends with Tom Ford who can blame her?
10. Garance Dore
Garance Dore was working as a freelance illustrator in France before beginning her blog, garancedore.com in 2006. Her illustrations have been featured by Louis Vuitton, Dior, Kate Spade, and Gap to name a few and she has been named by the New York Times as the "Guardian of Style." Collaborating on video content with Dior, Chopard and Tiffany & Co. she certainly has friends in high places.