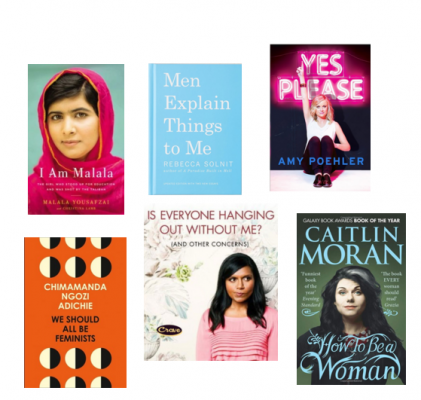 1. I Am Malala – Malala Yousafzai
18-year-old Malala was shot by the Taliban in 2012, whilst protesting for her right to have an education. After many people heard her story, she became an international figure of peaceful protest and is the youngest person ever to win the Nobel Peace Prize. If you're after an inspirational, moving tale of female determination, this is the book for you. Malala is proof that one woman can change the world. 
2. Yes Please – Amy Poehler 
'Yes Please' is like a guidebook on how to handle life, love, careers and friendships. Amy Poehler is a wise, wonderful woman whose charisma, strength and sense of humour makes her a role model for women everywhere. 
3. Not That Kind of Girl – Lena Dunham
This is the book to read if you're in your teens. Balancing your entrance into adulthood whilst trying to balance everything else in your life is really bloody tough, but Lena's anecdotes from her own experiences during that awkward phase of life prove to be enlightening, relatable and insightful. 
4. Is Everyone Hanging Out Without Me and Other Concerns – Mindy Kaling
Actress Mindy Kaling's observations on the roles of women in society, paired with her own 'confessional' stories about her life, make for a wonderful read. When you turn the last page, you'll feel like a true strong, independent woman…unless you've died laughing first. Even the title of this book is genius.  
5. How To Be A Woman – Caitlin Moran
If you identify as a feminist, you have no excuse not to own Caitlin Moran's first title. The journalistic superwoman declared this book as "part memoir, part rant". How To Be A Woman challenges social stereotypes and asks the questions that modern women should be asking. Nothing will make you want to cheer from your armchair/bed/bus seat/reading environment like the line "A) Do you have a vagina? B) Do you want to be in control of it? If you said yes to both you're a feminist!"
6. The Bell Jar – Sylvia Plath
This literary classic (and Plath's only novel!) is exactly what you should read if you're a feminist hoping to enter the fashion journalism industry. Set in the 1950's, our protagonist Esther faces a multitude of challenging problems – many of which she wouldn't face as a man. 
7. Bad Feminist – Roxane Gay
"Pink is my favourite colour. I used to say my favourite colour was black to be cool, but it is pink – all shades of pink. If I have an accessory, it is probably pink. I read Vogue, and I'm not doing it ironically, although it might seem that way. I once live-tweeted the September issue." Gay's book focuses on all of the internal struggles some women have as a self-identified feminist, but deals with them in a lighthearted, hilarious way. 
8. The Complete Collected Poems – Maya Angelou
This is an incredibly insightful read. Angelou's collection of poems challenges many social situations, whilst romantically speaking of love, loss and everything that it means to be female. 
9. We Should All Be Feminists – Chimamanda Ngozi Adichie
Does this author's name ring a bell? Chimamanda is the author sampled in Beyonce's song #FLAWLESS. Not only is her speech within that track wonderful and motivational, her 'We Should All Be Feminists' is an essay that every woman (and man) should read at least once in their life. Fun fact: last year, every single 16-year-old in Sweden was given a copy of this book for free.
10. Men Explain Things To Me – Rebecca Solnit
This book inspired the term 'mansplaining', and brought Solnit into the spotlight as one of the best feminist writers of our time.This book discusses everything, from patriarchy to French sex scandals, it's all in here. This book discusses everything, from patriarchy to French sex scandals, it's all in here. If you're after a laugh, we'd definitely recommend picking up a copy. 
Crack out your Waterstones loyalty card, it's time to get bookworm-y up in here.