While COVID cases are still at a high and new restrictions being introduced, our favourite spooky season- Halloween, is fast approaching. The prospect that Halloween, which falls on a Saturday this year, may not be celebrated sure is terrifying! Whether you like to get dressed up and go out for a boozy night with your friends, or more of a stay in horror movie kinda gal, Halloween is a tradition we love. However, Halloween of 2020 is sure to be different. Here at Fashion North, we take a look at some of the most iconic Halloween costumes by celebrities of all time and how you can make your own stay at home version. While we may not be able to go out with our friends, there is nothing stopping you getting dressed up and taking a photo for the Gram!
Kendall Jenner
It would be wrong for the Kardashian/Jenner clan to not get a mention when it comes to lavish, extra Halloween costumes. They have never been ones to disappoint with their costumes sported at the most exclusive parties. One of our firm favourites was when Kendall Jenner hosted a Halloween party last year, pre COVID times, dressing as a forest fairy. The model looked nothing less than enchanting, in the gold feather dress with incredible detail. This was paired with a pair of prosthetic ears and fairy wings with stunning attention to detail. Jenner certainly pulled out all the stops to not let anyone over dress her. Obviously, we don't have a Kendall Jenner budget over here, so we decided to show you how to make your own Forest Fairy costume.
We found this gold dress on Isawitfirst for just £18, the gold tassels replicate the feathers seen on Jenners. Pair this with a pair of wings and head band for your own DIY forest fairy look.
Heidi Klum
In perhaps one of the most iconic Halloween looks of all time, Heidi Klum dressed as Jessica Rabbit back in 2015 while hosting her prominent yearly Halloween bash. Klum looked phenomenal as she was transformed into the animated sex symbol. The costume had clearly took many hours to get into character, as no detail was missed. The model left a major impression on the world when she was photographed in the stunning split leg red gown. The dress complimented the models slender physique. This was completed by prosthetic boobs to match the animated character, and a pair of long purple gloves. Heidi Klum was almost un recognisable under all the prosthetic, vibrant makeup and wig. The outfit was completed with a pair of red suede Louboutins. Here is our Fashion-North budget version.
You can get your own red split leg dress here at Dorothy Perkins for £34.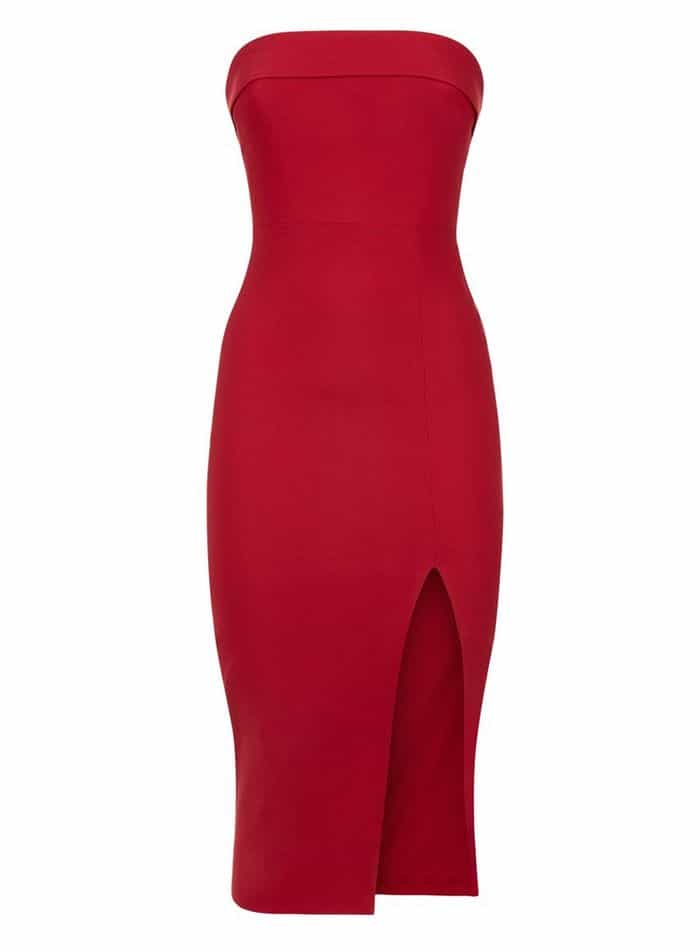 Pair with these purple gloves from wonderland party for just £3.99 and prepare to wow.
Gigi Hadid
Even with a green painted face the super model still looked amazing attending a halloween party hosted by super-model friend Kendall Jenner. While most of us would look like Shrek the Ogre in similar makeup, the model looked stunning. With a yellow fedora, she sported an iconic tailored yellow suit, worn by the mask with a pair of statement hoop earrings, big enough to fit our hand through! Underneath, she wore a black and white polka dot tie. 10/10 for effort on this one, and fair play to Gigi, missing the memo of sexy and lavish and showing her humour. To make your own version of this costume, check out the products we found below.
Yellow fedora £9.99
Oh Polly yellow tailored bottoms £15
Vanessa and Stella Hudgens
The Hudgens sisters wowed her fans as she opted to go down the masquerade route. This is always a safe option, as who doesn't love a sleek dress completed with a mask. Stella wore a stunning black gown showing off her cleavage. She was the image of sophistication paring this with a black detailed mask, not breaking the monochromatic colour scheme going on. To emphasise the sophistication, the sisters tied their hair back showing that less is more. While the term mask is overly familiar now and a legal requirement, incorporate your face mask into the costume!
We found these items to make your own masqerade:
Black velvet cowl neck split leg dress from Pretty Little Thing- £18
Black velvet maquerade mask from fancydress.com- £9.99
Bella Hadid
Being a couple at the time, Bella Hadid and the Weekend attended Heidi Klums annual renown halloween party dressed as characters from Tim Burtons Beetle Juice. Hadid took Halloween to the next level opting for a custom made Slyvio Roberto Kovacic dress. The red tulle dress was complimented by the models red eye makeup and earrings. We love this outfit for both the glamour and horror factor, being perhaps the most elaborate Tim Burton dress up we have seen! The Weekend was unrecognisable in his Beetlejuice wig and special FX makeup. He wore a burgundy tie which complimented Bella's dress with a white frill shirt and bow tie.
To make your own bride of Beetlejuice costume we found these products:
ASOS DESIGN Petite exclusive tulle cross plunge midi dress in red £48.75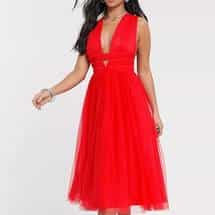 Long red gloves for £3.99
And complete with a bunch of fake red roses for ultimate Beetlejuice vibes.
What is your favourite celebrity halloween costume of all time? Tweet us at @Fashion_North and let us know!