Eat more healthily, buy more sustainably, follow your dreams to study fashion journalism. The new year is always a great time to make your resolutions.
With 2020 comes a brand new decade, so Fashion North asked these budding fashionistas, at Fashion North HQ to learn about our fashion journalism course, for their style resolutions for the 12 months ahead.
Holly Anderson
2020 will hopefully be the year celebrating a greener way of living for the majority of us. Reusable water bottles, less one-use plastic and thrifting could all be our ticket towards a more sustainable way of living. Climate change, as we know, has become a pressing issue in recent years, but now more than ever, we need to change our ways in order to preserve and keep our planet alive. I believe that it is our duty to do whatever we can. 
Thrifting has been around for years. But now, through the rise of ethical influencers such as: ThreadsObsessed (@threadsobsessed) and There She Goes (@thereshegoesyt), thrifting has become closer to mainstream. These influencers guide their viewer's through their positive thrifting experiences and encourage them to fulfil a similar lifestyle. 
Vintage trends were popular throughout 2019 – so why not buy a second hand outfit this year to make it even more 'authentic'? 
Throughout 2020, this will be my resolution. I plan to think before I buy, contributing less to the demand for clothing and 'fast fashion'; and I plan to go vintage more often, trying to find unique items in pop-up stores and charity shops. 
Next year, I dare each you to purchase one thrifted item and maybe, we will be one step closer to living a greener life.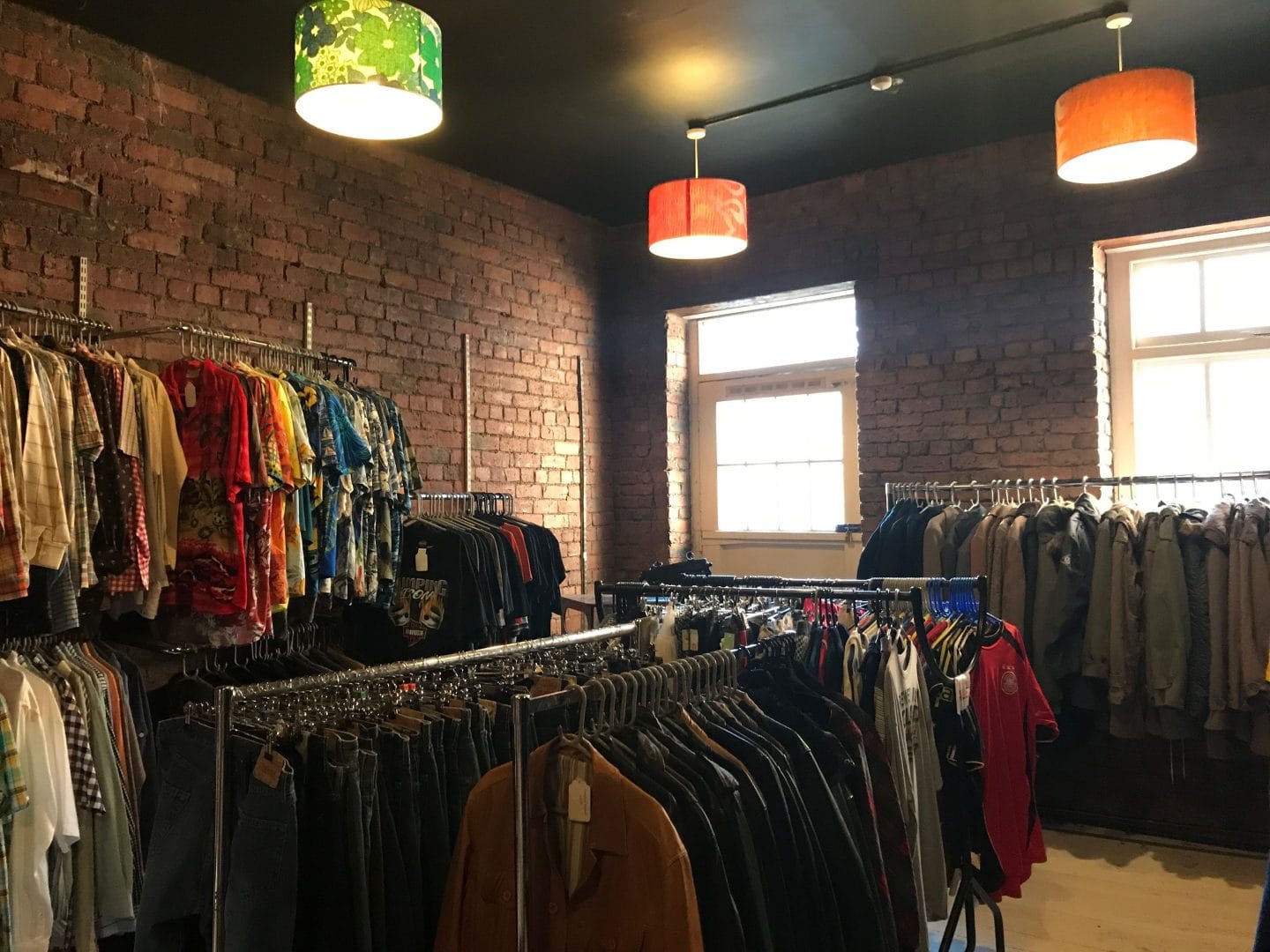 Charlotte George
Who is Patrick McDowell?
Since the age of 13, Patrick McDowell has been recycling and reusing his wardrobe in order to create his outstanding and unique clothing line. The recent graduate from Central Saint Martins has already showcased his second collection 'Firefighting Aunties' at the 2019 Helsinki Fashion Week. McDowell, who has already featured in many Fashion Weeks as well as in Vogue, started his passion for designing when he created a school bag out of an old pair of jeans when his mother refused to buy him one.
From there, McDowell strived to create more abstract clothes and, after being an apprentice for Burberry, he realised that a lot of unused materials were going to waste. With permission, the young Liverpudlian designer took the materials and turned them into one of his collections. 
The upcoming designer has only just begun his journey in the fashion world.
Personally, I loved his 'Firefighting Aunties' collection as the bedazzled helmets changed the whole concept of the workplace uniform. The idea of having the fire fighters turn up to an emergency glistening would be absolutely fabulous…
However, I do not think the fire department will see eye to eye with this bold fashion statement.
Next year, I am going to try to meet Patrick McDowell and conduct an interview with him, listening to all his new ideas on the future of recyclable and sustainable fashion.  
Could Patrick McDowell become the new Christian Dior? 
Grace Rios
Experimenting with new clothes textures and colours. 
This year I have grown a year older, experienced life a bit more and changed as a person. In the new year, I want more…
Self growth and mental health have been my main focuses this year, to learn how not to care about the judgements of society but to love myself through my passion for fashion, increasing my confidence.
365 days of knowledge and learning, widening my knowledge on what different pieces mean, a factor that has changed over time. From my personal experience when I'm in my own bedroom deciding on an outfit varies depending on the type of mood I am in that day. 
In the new year I want to expand my wardrobe and introduce different colours, incorporating textures together that I avoided before due to my own (or others) doubts.
I want to subvert traditional fashion in vogue styles and make my own style with its own conventions. I refuse to be confined to what is seen as acceptable with traits such as "men should wear leather whereas women should wear silk" because of the gender characteristics it has. I believe if I can bend these rules, anyone can.
Anna Ryle
Switching to a sustainable wardrobe
The 'Fast-fashion' crisis is an extremely multidimensional social issue, and is one of which that I feel as a fashion lover and consumer strongly for. We must buy less clothes and collectively ditch our "see it want it now" mentality as buying cheap clothes comes at a high price for many with the exploitation of sweatshop workers and farmers, as well as the environmental damage due to the burning of fossil fuels. The exchange to a sustainable wardrobe and ethical clothing is a very important transition for people to follow and is very prevalent in today's mainstream society and is a trend I am keen to follow more in the new year.
 I have been introduced to the concept of 'Fast-fashion' predominantly through media influencers such as Irish 'youtuber' and businesswoman Keelin Moncrieff who uses her social media platform and vintage wholesale shop to promote sustainable and ethical fashion as well as educating viewers on the social and environmental effects of fast-fashion.   Personally, I am inspired not only by unique vintage fashion sense but passion for this issue within the fashion industry. There are many ways in which I am aiming to develop my fashion sustainability. For me, I loved attending a vintage kilo sale based in Newcastle and aim to attend more throughout the new year. As well as this I also aim to transform my usual shopping trips into thrifting, this is a great way of reducing my fashion footprint and picking up some classic vintage pieces.