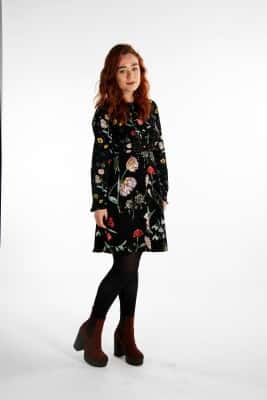 Today's look consists of a dark floral bohemian style dress with fluted sleeves from Warehouse and my new suede 70's style platform boots.
I was definitely born in the wrong era; I love history and vintage fashion and therefore like to dress as though I am from one of those time periods. I adore the etherealness of 70's fashion and I particularly love the styles of Florence Welsh, Stevie Nicks and Kate Bush.
When I want to be a bit more polished in my style, I tend to dress quite 40's and 50's, I love a good midi skirt! Paloma Faith is my biggest style influence for this era.
I like to clash colours with my ginger hair and try to make a statement of it. I am a big collector of hats inspired by the Edwardian era and have a vast collection of hair accessories. My favourites at the moment are those I have recently bought from Her Curious Nature, they are so whimsically beautiful and remind me of serene paintings from the renaissance, and the statement headwear of the Tudor era.
Get inspired by Kate's look with some of these cute floral dresses available in the high street now: