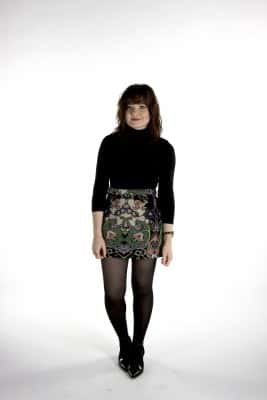 Today, I'm wearing Topshop with a little bit of Primark. It consists of a new-season mini skirt with a symmetrical floral pattern; a black, high-neck bodysuit and some cheap but cheerful pointed patent heels.
This look echoes my everyday style – casual comfort just isn't in my vocabulary. I am constantly inspired by late 20th century fashion, particularly of the 1960s. Young people across Britain rebelled against the norm with their fashion choices in this decade and I always try to emulate this through my own personal style.
Although my fashion mainly comes from high-street retailers opposed to vintage and second-hand stores, actresses and models of years gone by inspire my look. I love looking at old photographs of Twiggy or Jean Shrimpton, Mary Quant or Brigitte Bardot… I'm definitely living in the wrong era!
My accessories consist of modern pieces inspired by the past, such as my beloved Olivia Burton watches, and gold rings that were once worn by my gran. So, I suppose I can be minimal at times but I love clashing prints and textures in the hope that they will go together and my silhouette choices are primarily '60s.
I own far too many A-line skirts and shift dresses that my wardrobe is probably crying out for a new style to come along but I just wouldn't be myself without these timeless pieces.
Get inspired by Rebecca's look with these statement skirts that are sure to et you noticed all available at Topshop: