Ever wondered how to nail A/W fashion? Worry no more, Olivier Rousteing shows us how to perfect the layering trend, choose the correct colour palette and look like a supermodel on those colder days… well, kind of. Ok so we might not look like the models gracing the runway of the French fashion house Balmain, in yesterday's show at Paris Fashion Week, however we can learn a thing or two about A/W fashion and what colours look great with particular textures.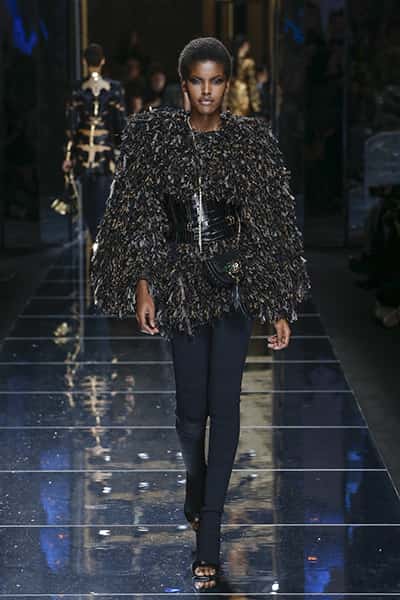 The show began with the most beautiful glossy and dark lit mirrored tiles on the runway, to reflect the edgy undertones that we saw continuously seep through with the styling, hair and make up. Gigi Hadid was first to saunter down the runway wearing an outfit that would set the tone for the rest of the show. The enriched colour palette consisting of camel, brown and black tied in with suede and leather textures enhanced the odd detailing of fringing and sequins here and there. All it took was this first look to know we were onto a winner.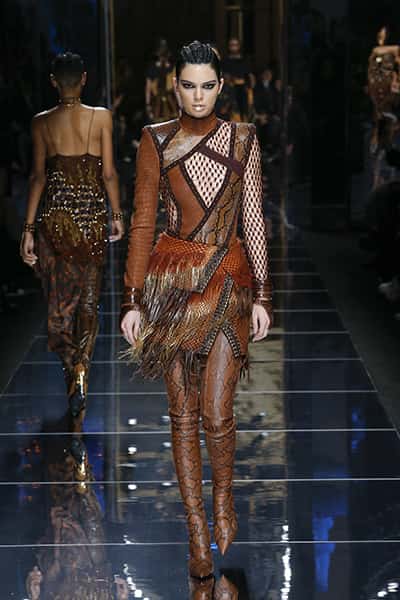 Throughout the first section of the show, the outfits all resembled the same enriched colour palette slowly introducing tones of burnt orange, navy and gold's into the mix. All models were consistent in terms of having their hair kept off their face in a sleek, straight ponytail with quirky plaits running down the middle parting. The make up was simplistic but statement, with a smoky eye and neutral lip, adding a pop of colour with various metallic lip rings. The consistent soundtrack throughout added the extra edgy, haunting vibe to the dim-lit venue, taking us all to a place of escapism for the duration of the show.
Throughout the collection, one thing is prominent. There are clear nods towards the 70s western era combined with the rock theme with the suede and leather textures, the vivid fringe, sequin and stud detailing and the subtle animal print filtering through during the middle of the show. Metallic accessories were also styled with the outfits including chokers, necklaces and bracelets to bring the glamour with the girls' waists being cinched in by the trademark Balmain belts for the more formal, evening looks towards the finale. As veteran Balmain girl Kendall Jenner closed the show, we we're definitely taught a lesson or two on how to nail A/W fashion trends all while making a bold statement and look every inch part of the #BalmainArmy.