We don't mean to exaggerate but, it felt like the earth stood still for a brief moment when news broke out that world-renowned fashion creative Virgil Abloh had passed away on November 28, 2021, shocking the fashion industry and everyone.
Virgil was only 41-years-old when he passed away of a rare case of cancer but the works that the founder, off-white and artistic director of Louis Vuitton have put out will remain impeccable and, his legacy will always be breaking the boundaries of fashion and reinterpreting them.
It's no doubt that he was a massive influence for rising fashion creatives to follow their dreams and start a brand of their own and, although he might be gone, he will never be forgotten. To remember Virgil at his best, take a look through a compilation of his most iconic items, quotes and runway moments.
Virgil Abloh's iconic designs 
1. The Off White industrial belt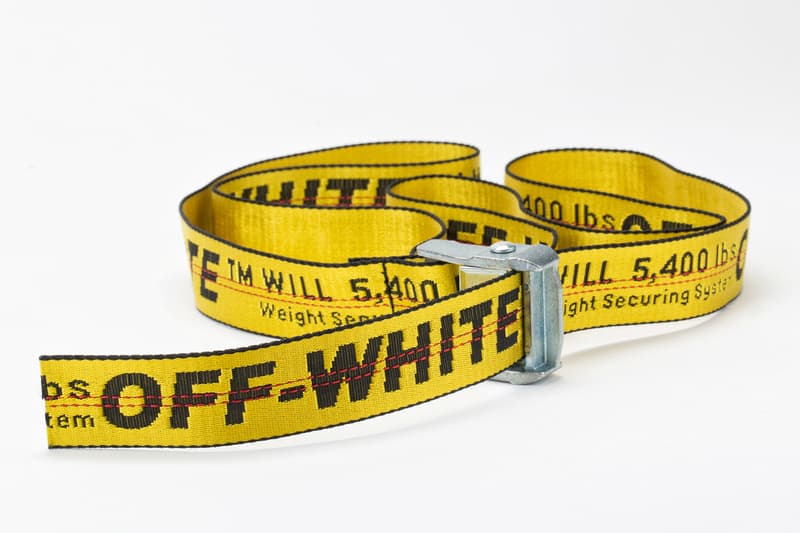 The Off White industrial belt is the item that has sent almost everyone into an Off-White shop or website so they could get their hands on them. It's crazy enough that it's all just for a belt too. The belt is solely inspired; by utilitarian fashion but with a bit of edge to it due to its bright yellow hue. The great thing about what makes this belt so iconic is not just the fact that it can be spotted a mile away, but it's durable and can be styled not just around your waist but necks and used as outerwear too.
2. The Ikea receipt carpet 
If you look around right now, you'll notice that homeware is growing more to be part of the fashion industry, and it is all thanks to Virgil after introducing the Ikea Recepit Carpet. The rug clearly defines postmodern art and is targeted towards millennials. Not to mention, it's a conceptual statement of pop art too. According to The Independent, while other pieces in the IKEA X Virgil collection were good, the oversized rug was what captured most of everyone's undivided attention and made the most sales.
3.Yeezus album cover 
For the longest time, Virgil and Kanye have worked together on several different projects, and throughout all those projects, Virgil has always been involved when it comes to, Kanye's album covers. The 2013 release of Ye's Yeezus album was the biggest album cover with a statement that represented 'the death of a CD' with a minimal see-through design.
Virgil Abloh's iconic runway moments 
Louis Vuitton Men's  A/W 2020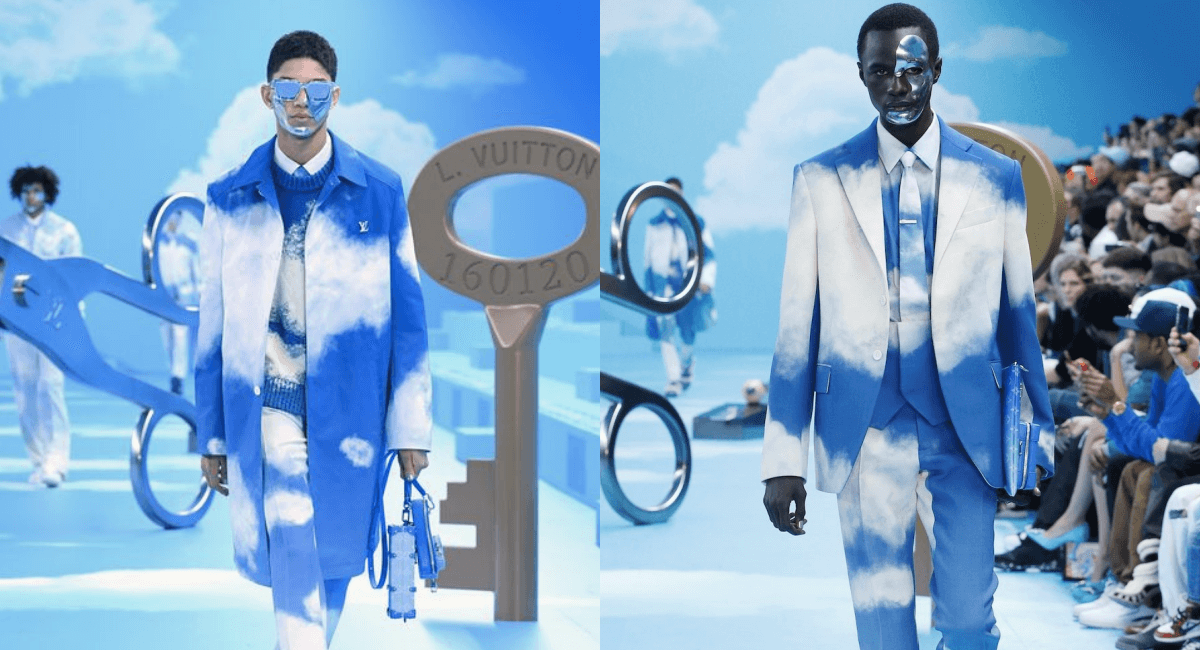 We've all had dreams to be among the clouds, and Virgil has once again made those dreams into reality in Louis Vuitton's A/W20 Menswear collection. A beautiful, cloudy, sky blue runway was presented and, on the runway, tools used by the Vuitton craftspeople and leatherworks to make the house's famed trunks were scattered making it almost like a crafter's wonderland. The whole set seemed almost ethereal and, Virgil wanted to redevelop the feeling of seeing the world as you did when as a child and how pure it all was. The set also finished with models wearing a dreamlike series of suits decorated with the same cloudy skies as the runway.
2. Louis Vuitton Men's S/S 2019
Held at the Palais-Royal Gardens during Paris Fashion Week, this would be Virgil's first  Louis Vuitton show to ever debut after being appointed as artistic director. Therefore, knowing him, it was an iconic one too because who could have ever forgotten the 650-foot-long-gradient rainbow runway. This particular set signalled a new leaf and vision for Virgil and also represented inclusivity.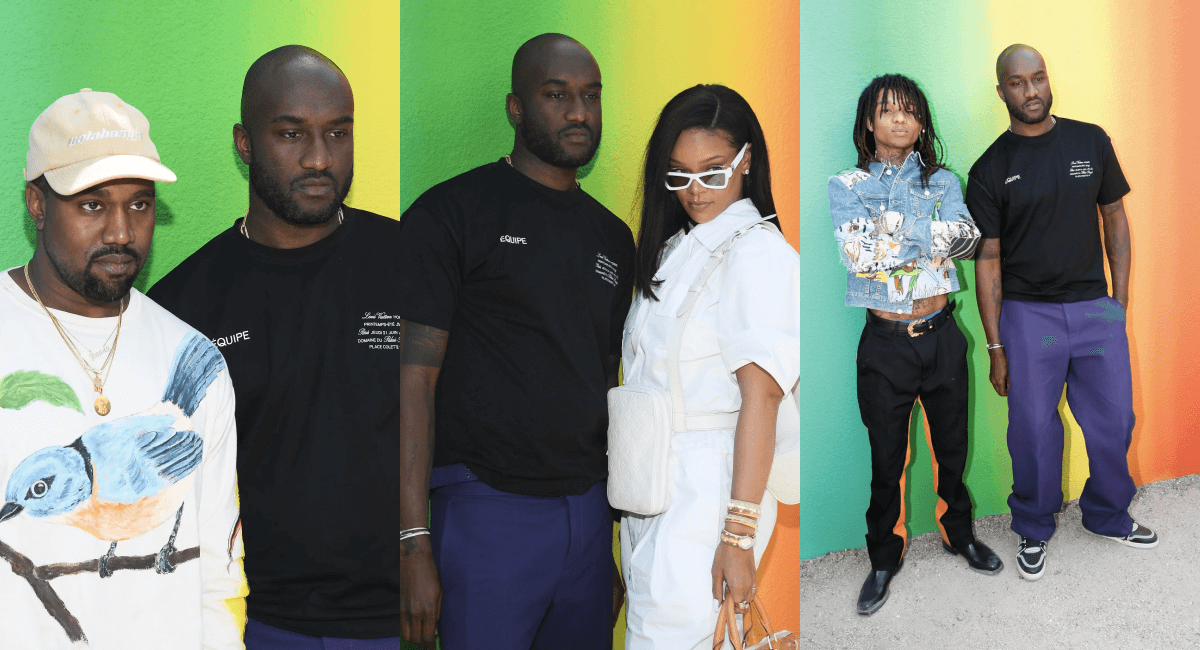 Since this was Virgil's first debut on a brand new journey, he had received the utmost support from his longtime partners and friends. This included Kanye West who wept tears of joy after he had taken his bow at the end of the show as well Naomi Campbell, Kim Kardashian and Rihanna.
3. Off White Laboratory of Fun Fall 2021 Collection
Held in Paris once again, Virgil's showing for Off White's Laboratory of Fun once again showcased the brand's unorthodox and understanding of fashion with an emcee and a DJ. The collection consisted of bold colours and boxy silhouettes with industrial detailing. The set was finished off, with singer, M.I.A that delivered an outstanding performance.
Virgil Abloh's best quotes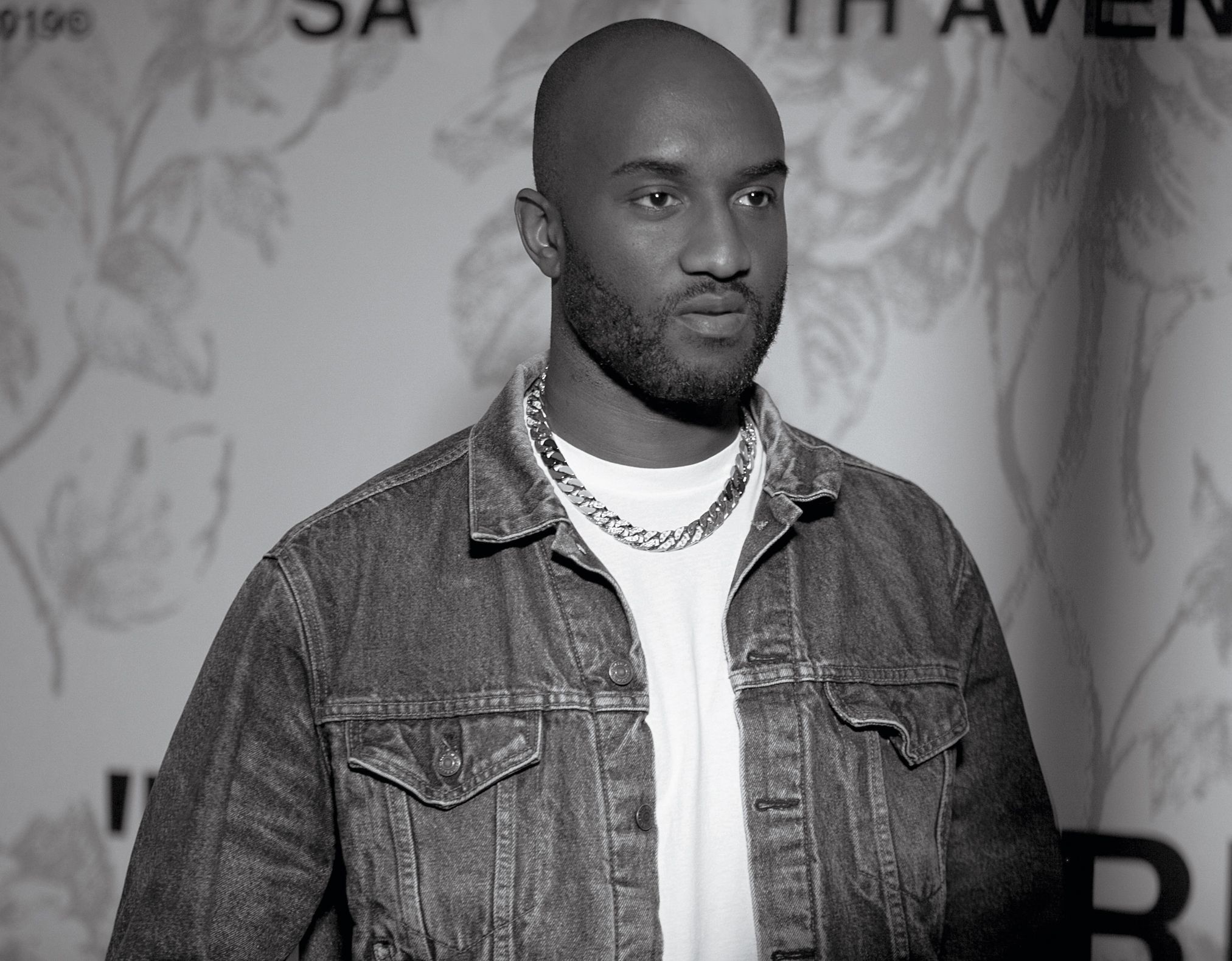 Many rising fashion creatives look up to Virgil due to his relentless work ethic and his amazing outcomes. He has been the sole inspiration for many people out there to follow their dreams and never give up because, with hard work and determination, anything is possible. With that, here are some of his most inspiring words of wisdom that will get you through the day but most of all to get up and do it.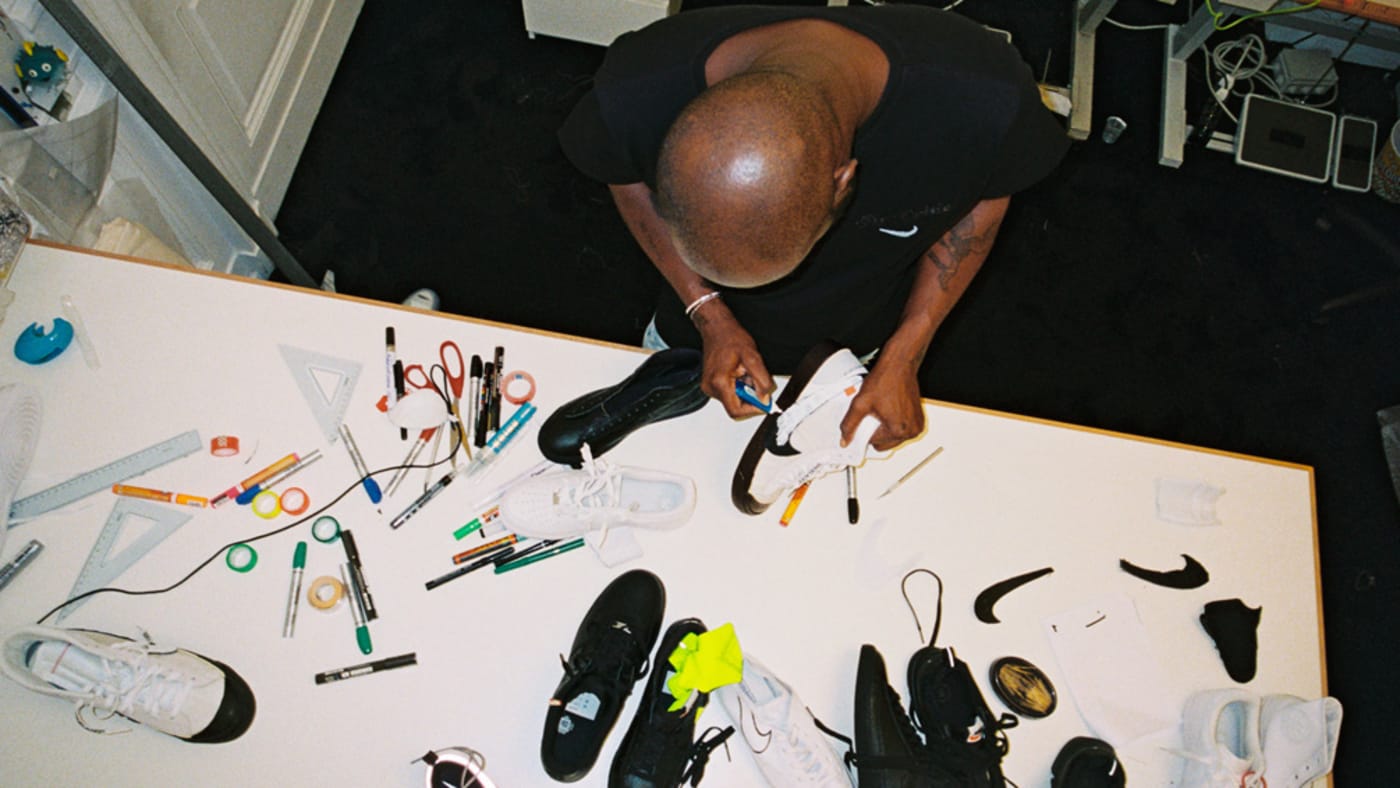 " If you really want to do what you say you do, leave this conversation and do it. Go and print that T-shirt today, and by today I mean in the next 30 minutes. If you don't do it, that's your problem."

" I make things and I leave defining what that is to someone else."

" In some ways, my life has been one big performance art project, it's not me at the centre stage but rather suggesting ideas, working on them helping an artist share them with the world and watching the response."
Virgil Abloh is a soul that will never be forgotten in the fashion industry as of now, Virgil's family is currently mourning and planning his funeral and burial. At the same time, an autopsy has not been released yet and, Virgil's family is asking for some privacy while they mourn their loved one. A fashion legend lives on.