Covid 19 has affected many aspects of many people's lives. Throughout April, keyworkers continued go to work as 'normal' and some people found that they qualified for the furlough scheme. Yet the Office for National Statistics said this left 47 per cent of people in employment to work from home and 46 per cent of these people where men.
The office now looks very different compared to pre- coronavirus times and consumers are looking for more casual, unrestrictive and versatile clothing that can take them straight through from the desk to dinner.
So, what does that mean for men's traditional work and formalwear? In August, data analysts at Kantar, published that men's formalwear had seen the biggest decrease in sales within the UK fashion industry in the 12 weeks to 28 June 2020. Spending was down in this sector by 89 per cent as a result of a 'diminished need to wear a suit to the office'.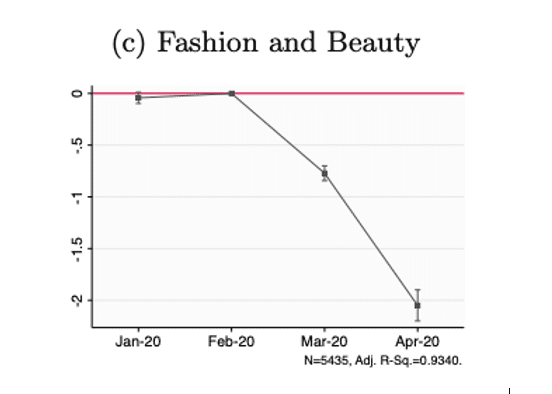 Graph: A report published by The European Center for Advanced Research in Economics and Statistics, ECARES, shows fashion and beauty is the third most affected sector during Covid 19.
In 2019, before the pandemic started, Marks and Spencer announced they would be cutting back their suit and formalwear ranges by 14 per cent while increasing leisurewear lines by 12 per cent. Coronavirus would undoubtedly enhance this decline and since the outbreak Marks and Spencer have said; '(due to) the closure of many workplaces and lack of social gatherings, the clothing sales mix has seen a substantial shift from office dressing and formal wear into casual clothing and leisure wear'. This seems justifiable as nearly half of all employed people have spent the last eight months working from their homes.
Michael Adams, founder of Michael 84 blog and men's fashion blogger from Newcastle, said: "I feature style guides on my blog which focus on what to wear to formal events. There was a noticeable decrease in searches and people reading these guides year over year, which I would suggest is due to coronavirus and lockdown measures.
"Clothing brands have and will evolve with trends. Leisurewear and athleisure have been gaining in popularity in previous years and with national lockdowns, I think that it will continue."
According to Statista, in 2020 more than half of the UK population bought clothing, shoes and accessories online and they project that fashion e-commerce revenue will grow by 4.6 per cent in the UK by 2022. A global study, released by Salesforce, found during the COVID 19 pandemic consumers interact with companies online 60 per cent and offline 40 per cent compared 42 per cent online and 58 offline in 2019. In addition, 58 per cent of consumers said they expect to continue to do more online shopping after the pandemic they did before.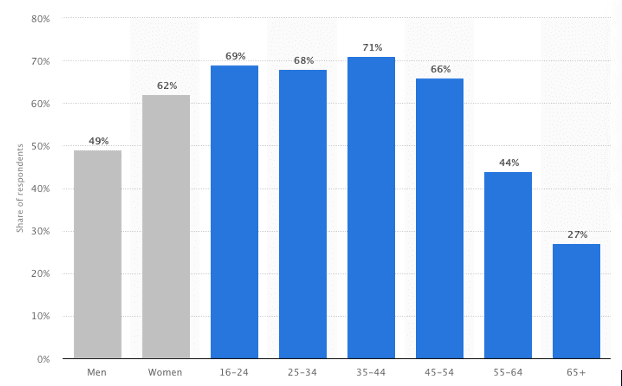 Graph: Share of individuals who purchased clothes (including sports clothing), shoes and accessories online in Great Britain in 2020, by age and gender by Statista
To keep up with demand, and ensure sufficient business throughout coronavirus, consumers are expecting independent men's workwear and formalwear retailers to develop their business plan for online sales. However, Brian Smith, owner of Leaf Clothing in Newcastle, says he is unable to get involved with online sales.
Brain explained: "Covid-19 has affected us greatly. We cater for a lot of weddings and nobody is getting married. The people who usually wear suiting to go to work, aren't going into work right now. Suiting has literally stopped for us.
"We can't get involved in online sales because we buy small quantities. By the time we would get it onto a website we might not have it left in store. This is the way we have been for 42 years and I don't want to change that.
"Because of this, for the second lockdown we are going to offer Facetime calls, WhatsApp calls and if somebody calls me, I will arrange a time slot with them to come into store to do a socially-distanced appointment. If people live locally, we will also hand deliver and if they are further afield, we will post to them."
Although, for some it is the sales of suits and formalwear that are keeping their businesses alive. Colin Chandler, owner of Smart As Suit Hire in Whitley Bay and whom has been in the business for 30 years, said: "If I wasn't also selling suits I would have to close, hire has died it's death."
He continued: "If you've asked me in February, the hire was excellent. We literally had a full book all the way up to September. Now I seriously have nothing. I've got one this weekend, which was originally a party of 12 and now it's a party of four. So, they have reduced the amount of people who are going. Everything else has just been moved. After this weekend, I have nothing on hire until next May.
"Before you would have had a party of six or seven and now you have them going down to a party of three or four, so rather than hiring they're buying. This means they are able to maybe spend a little bit more money on each individual suit. I think the decline is due to the fact that the venues have disappeared and are unable to offer what they did before."
For many, the future of men's workwear and formalwear is uncertain. However, there will always be consumers that continually opt for the smarter way of dressing.
Lauren Robinson, e-commerce and SRM executive at Master Debonair in East Bolden, said: "We have done quite well on the e-commerce side even while the shops where shut. For Master Debonair, it will be okay. This may be because the style we sell is quite different and that is our selling point. If it was just black suits and something you could find in Next or Primark, then I think we would probably see a lull in sales.
"There are men that wear suits day in, day out regardless if they have an event to go to. The Master Debonair owner, Simon, started this business because this is the style he likes and wears every day. We will still receive orders from other people like that who just like to dress this way even if they are going on a walk."