Marks and Spencer have been a part of the British high-street for as long as we can remember (since 1884 to be precise). It's the place where generations have shopped, and it has become a well trusted brand. However, over the last decade trouble hit as M&S announced store closures.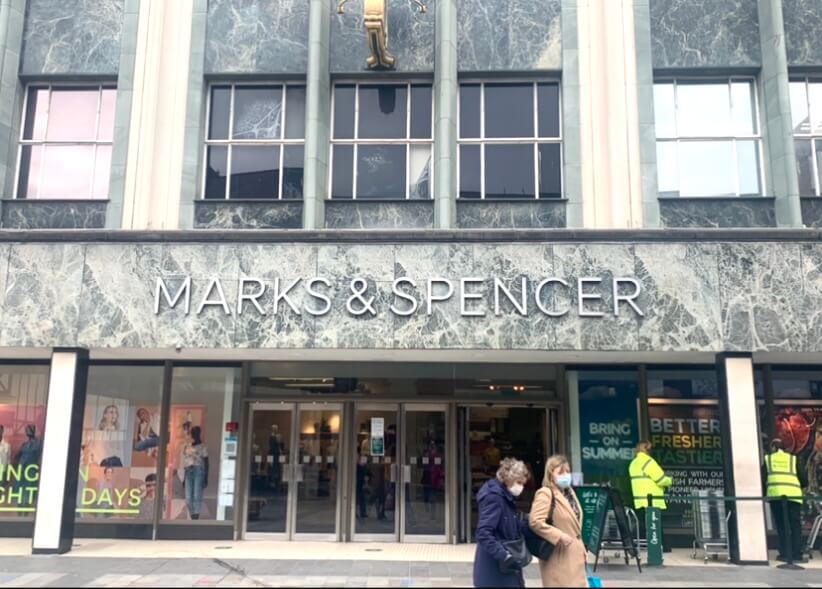 When we think of Marks & Spencer, our minds instantly think that it's a place where older generations shop or our grandparents. Young adults don't choose to go to Marks & Spencer and therefore the brand is missing out on a big demographic. Is that because of the brand's style or because of their marketing?
According to the BBC, Marks & Spencer plan to close 100 stores by 2022 and the Covid-19 pandemic that hit in 2020 has accelerated the brand's decline, as they closed 47 stores.
The core demographic for the long-standing department store chain was 45's and over but in recent years, Marks & Spencer have attempted to woo younger customers with upbeat adverts on our TV's and by starting to sell other brands. Music simply isn't enough to attract younger generations and it would confuse or turn their older customers away. They also started to sell the eco-friendly label, Nobody's Child, online, in an attempt to reach a larger audience. Whilst an eco-friendly brand is very fitting for the modern-day audiences, it's not enough to see a great improvement.
The clothing sold at this high-street store appeals more towards the older generations. The mix of style, or lack thereof, has been an ongoing conversation. Instead of trendy clothes, the store opts for subtle and basic. In turn, this is stopping the store from attracting a lot of young customers. Stylist Sally Minns, aged 29, believes that Marks & Spencer appeals towards older generations, but it has some hidden gems for people's basics:
"Marks & Spencer is actually one of my favourite brands. It's probably not many people's my age, but I think people underestimate them and underrate them, especially for the younger generation because to me, they are the perfect brand for quality staples."
The problem is, young people don't want basics and instead they want fashion-forward, trendy clothes. The Newcastle based stylist then went on to say:
"People go to Marks & Spencer because your Mam or your Nana went to Marks & Spencer. It's kind of a generation thing and I think if your parents didn't shop at Marks & Spencer then you probably wouldn't go to Marks & Spencer."
It's clear that the word of mouth from our older relatives makes younger generations believe that the store doesn't sell clothing for younger people. Though Marks & Spencer offer clothing for a range of people, they don't do it well.
"They do try the marketing which we call (it's a really bad phrase) cot to coffin. So, at Marks & Spencer you can shop from new-born babies all the way to old ladies… I think they've definitely got the baby section nailed, they're really good at that, and they've got the kind of 35+, but where you hit 16-30, I think they don't really market very well there."
Marks & Spencer are making continuous attempts at attracting potential younger customers, but they aren't doing it very well. Their use of adverts hasn't really worked, and they have tried using public figures, but not public figures that younger people look up to. Sally Minns stated:
"They try to get like Holly Willoughby and Rochelle Humes and I know they get a lot of TV presenters but they're still at a certain age. I know they don't want to go down the influencer route, they're nothing like what Pretty Little Thing and Boohoo are trying to attract, but I think they definitely need to try and find someone who meets the younger generation."
Most people can agree that Marks & Spencer as a brand has become confusing overall. It's a brand that is trying to move forward and compete with other brands, but in doing so, it has lost its identity and is now struggling. When it comes to Marks & Spencer's style and identity, Julie Bradford, a fashion communications specialist and lecturer, said:
"I think it's very hard to put your finger on it and that's the root of Marks & Spencer's problems for the last few decades, I think. It's very hard to think of what it stands for or where it positions itself because it's trying to appeal to all sorts of demographics and markets, so I think its style is fairly bland and I don't see what, at the moment, people would go specifically to Marks & Spencer for, apart from underwear."
In order for the store to improve, Ms Bradford, aged 54, thinks more focus is needed:
"I think certainly, it does need more of a focus. I think what would help it and what it's started to do, is bring on third-party brands instead of just relying on its own sub-brands. It was trying to compete with the people below it, in terms of price, like Primark, Zara, H&M, and all of that. So, it lost focus on quality and fabric and style and fit."
When the beloved high-street department store started out, it prided itself upon good quality clothing at decent prices. It was always there for families and their basic needs. But in a time where fashion brands are starting and expanding quickly, Marks & Spencer has become lost.