Who would have thought that jeans, a staple in practically every girl's wardrobe, were initially first worn by miners and cowboys due to their durable fabric. Now more of a fashion must-have, denim has been reinvented countless ways since the 1950s, when jeans became a popular style choice with teenagers.
The 80s, a time when 'designer denim' was born after 15-year-old Brooke Shields posed for Calvin Klein with the iconic phrase: "Do you know what comes between me and my Calvins? Nothing." It was an era when the Mom jean bloomed and acid wash denim was popular.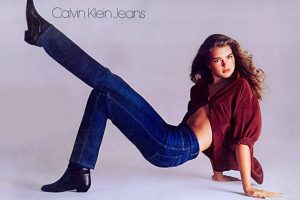 Think back to the 90s/early 2000 and you are instantly reminded of that particularly memorable look by Britney Spears and Justin Timberlake in 2001. When it comes to double denim style inspiration Drew Barrymore is the girl to look at, especially her campaign for Guess. The once popular jean trend from the early 2000's that we'd probably now pass on is low rise, frequently seen on celebrities such as Jessica Simpson and Christina Aguilera.
Right now there are no boundaries when it comes to the variety of denim now sold; embroided, embellished, lace overlays and sequin. Our choices are endless. Although Gucci's heavily embroided denim jacket price tag would cause some damage to the bank balance the high street have us covered with some amazing alternatives.
Here are some of Fashion North's favourite picks: