Lace has always been a fabric associated with lingerie but it has now transitioned from the bedroom and into our everyday clothing. It can be found on the high streets and dressed down for the more casual day time attire.
One of the most popular garments associated with lace is dresses, but minus the heels. Women are ditching the stilettos and opting for flats to create the perfect everyday outfit. This will be essential to every spring and summer wardrobe and it makes the perfect transition into autumn later in the year. 
Lace has been around for centuries, however, a lot of people overlook the versatility of the classic fabric and associate it with evening wear. It has always been a favourite trend over the previous seasons – especially on the red carpet – but, we all can't rock up somewhere in a designer gown. This is why we are embracing lace with a street style edge, by incorporating denim and trainers. Why do women love it so much? Because it looks romantic, feminine and chic but still embraces a statement look.
It has already appeared on the catwalk this season from many designers, however, some have decided to switch from the traditional lace by including more of an edgy silhouette and detailing. The chic trend has been used by brands including Gucci and Loewe in their ready-to-wear 2019 collections, which included different ways of how to style the fabric. For example, Gucci showcased how daytime lace can be perfect for your work wardrobe such as layering over trousers or a skirt. But too much lace can be a bit overpowering for work, therefore if you want to add a bit of texture, you can try a dress with a lace hem. This helps balance the sophistication of the outfit as well as not revealing too much skin.  
However, you may be wondering the secrets to dressing down without spending a ridiculous amount of money. Here at Fashion North we have noticed this trend is already hitting the high street and online stores for the spring and summer – featuring in a range of different styles and colours. 
Celebrities and influencers are also embracing day time lace by mixing with slouchy silhouettes, combining it with leather, denim, casual sneakers or ballet flats instead of heels. Popular online stores like In The Style have you covered with your perfect daytime look. Reality star Charlotte Crosby can be seen wearing the Suzanne Jackson white lace puff sleeve bardot mini dress, along with Influencer, Emily Shak who has styled a dress from her own collection, the plunge skater, belted lace dress. Styled with a leather jacket, black Doc Martins and a fringed handbag, this is the perfect lace daytime look. 
View this post on Instagram
View this post on Instagram
The high street stores are also jumping on this trend for SS19 such as River Island with this white lace bardot swing dress available in black and white. This item is perfect for the holiday season – which is approaching us very soon – and will be essential in your wardrobe, paired with a denim jacket. Whether you'll be jumping on the trainer trend or strutting in a pair of lace sandal, the lace trend is here to dress down this spring.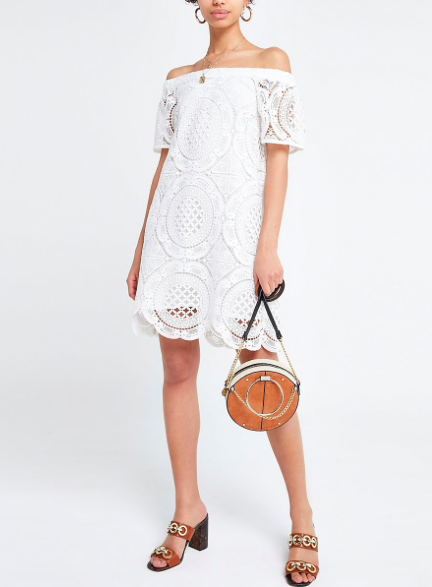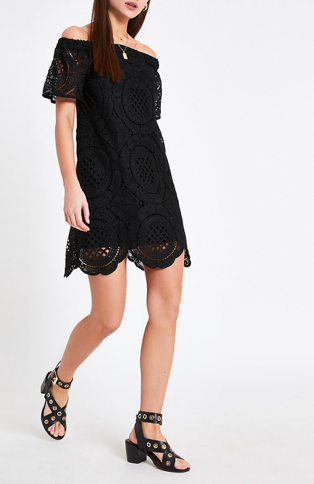 Credit: Riverisland.com
Will you be following the casual lace look? Make sure to tweet us @Fashion_North and follow us on Instagram for more inspiration.