June 20th marks the official beginning of summer (difficult to believe, yes, due to the constant gush of rain we've been receiving but you know, it is England.) So when the sun finally wants to make an appearance, make sure that your summer shoe range is updated and ready-to-go. Here is our summer shoe edit with some of the must-have shoes you need to walk from your wardrobe onto the streets this summer.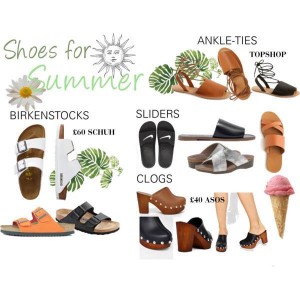 BIRKENSTOCKS – A timeless classic. Go for a simple black or white for easy styling or make your outfit unique by going for an orange colour, why not? The white pair are the easiest to style and will definitely make your new tan stand out the most. They can be styled with simple denim shorts and a tee, or you can wear them to make a smart cigarette trouser look that little bit more casual.
ANKLE-TIES – New this summer, ankle-ties are an easy option if you need to make a difference in your outfit. We have seen lace-up heels become very popular over spring so why not carry on this trend but in a more comfortable style? Perfect to wear on a summer's walk, an evening BBQ or to the beach – but maybe not while sunbathing, imagine the tan lines…
SLIDERS – A shoe for the comfort lovers.  Simply 'slide' them on then you're good to go! Go for a simple look with Nike's white tick sliders or chose a pair that can easily add a touch of glamour to a simple beach outfit by going for ones with a pattern. Whether you're buying them to wear for comfort around the house or plan on choosing a pair to make an evening outfit more casual, they've got to be on your summer wish list.
CLOGS – They're back, and boy can't we wait to wear them! If you're looking for summer shoes to instantly make an impact with your outfit, start hunting for a pair of clogs. They're perfect to wear with beach dresses and playsuits and the pair from ASOS included in the 'shoes for summer' picture edit are currently on sale (yes, that's another reason to grab yourself a pair!)
So, what are you waiting for? Many pairs of summer shoes are looking for a brand new home and your wardrobe doors are wide open. Happy summer shopping!