Velvet has become the latest Marmite clothing but whether you absolutely love it or absolutely hate it you cannot deny that is everywhere at the minute. Just take a walk through the Bridges shopping centre in Sunderland and you will not be able to miss it in all the Shop window displays.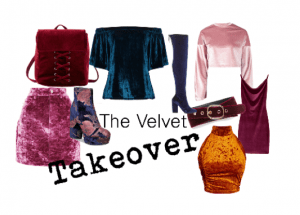 This trend always appears this time of year as it adds a bit of shine and luxury to your winter wardrobe, but this year they have stepped up the mark. Long gone are the days of a simple crushed velvet skater dress for the Christmas do, now you can get pretty much anything in velvet: dresses, trainers, heels, tops, bardots, bandeaus, pyjamas hair scrunchies, handbags, coats, jackets, hoodies – even jogging bottoms and bedding!
We looked at five shops that you can find for yourselves in the Bridges shopping center and their websites came back with between 454 and 644 results per site! We really weren't kidding when we said it is everywhere at the minute.
To save you time going through hundreds of results, we gathered our favourite picks below.
So, if you are on the love team then you can treat yourself to some nice comfy clothes for around the house or a glamorous number for a Christmas party and if you are on the hate team, well you can't walk through town at the minute without seeing it so why not pick something up for that secret Santa present you've been rattling your brain for ideas for.
For those of you who are too busy with deadlines and work to go into town and prefer to online shop all the images below will link you directly to the sites you can get them from.
So, are you team love or team hate in this Marmite trend? Head over to our twitter now to vote in our poll @Fashion_North