Words by Abbey Warne
Make this New Year's Eve a rememorable one after yet another year of incredibly hard work – you deserve it.
Here are the top five destinations you just have to visit.
New York
New York is by far one of the most exciting destinations to visit for New Years Eve. From the outstanding musical performances, to the lively and empowering fireworks which all take place in Times Square, this will definitely be a night to remember.
If you are looking to stay for a few days, why not take a winter walk through the iconic Central Park or if you're feeling brave, try yourself at some ice-skating. Don't forget to visit some of the many restaurants, cafe's and well known department stores such as Macys which host a huge selection of popular brands.
Accommodation
Many people look for a cheap getaway for New Year. Well, look no further than the four star quirky Pod 51 Hotel. At this hotel, you can choose from a range of Pod-Style rooms and the hotel itself includes a wonderful roof-top deck, which offers breath-taking views of the city.
On top of this, the hotel includes free wi-fi, which is perfect for updating your friends and family of your experiences via social media. The prices range from just £80 a night, which is a shockingly good price for a city like New York.
London
If you're not looking to go abroad this New Years Eve, then London may be the perfect place for you. As seen on TV, the New Year Fireworks are a spectacular sight to see. Rather than passively sitting in your living room watching the fireworks, why not get out and experience the display yourself? With many different events going on in the evening and later on at night, from live music to the highlight of the night – the fireworks themselves of course. Why not check out the Visit London website, with a huge array of things to do from enjoying a glamorous New Years Eve Cruise, or if you're more of a daring individual, a speedboat ride across the River Thames which perfect for making the most out of this experience.
You can also make the most of this holiday by taking a winter walk in Hyde Park, and why not check out what's on, by viewing the events calendar on the website?  The wonderful Hyde Park Winter Wonderland includes many stalls selling some mouth-watering foods, as well as various hand-made goodies.
Accommodation
Looking to stay overnight? It is definitely advisable to stay outside the centre with the city becoming extremely overcrowded. One of the best hotels to stay at during this busy period, is the Premier Inn Hotel at Putney Bridge. Prices here range from just £65.00 a night. The hotel includes family rooms, free wi-fi, chargeable onsite parking, and a restaurant. On top of this, the hotel is also just a 10-15 minute walk to the tube station, and the journey to Central London is only around 25 minutes.
Edinburgh
Another destination which is a little closer to home but still perfect for New Years Eve, is Edinburgh. Also known as Edinburgh's Hogmanay, this is where the bulk of the celebrations take place. This year, don't miss the legendary performance of the well-known artist Rag'N'Bone Man in The Gardens. This event has shown to be especially popular this year as there are only a few tickets left, click here to book tickets now. There's also many street performances and entertainment taking place on the night. For more information on the event go to the HogManay website. This event is perfect for couples, or even if you're looking for a good night out with your friends.
Accommodation
If you're looking for a reliable and cheap hotel, then the four star Leonardo Royal Hotel is perfect for you. With rooms which can hold up to four people and includes tree and coffee makers – perfect for when you wake up, or even before you go to bed. The hotel includes free wi-fi, room service, a private outdoor parking service, and a restaurant where you can go for a full breakfast buffet and also includes a bar and lounge which is open until 11pm if you're looking to stay overnight. The hotel itself is only 12 minute walk from Edinburgh's Hogmanay which couldn't be more ideal, and a four minute walk from the city centre. For full details, check out the hotel's website.
Amsterdam
Unlike other destinations, Amsterdam has several celebrations rather than just hosting one big one. This gives you much more flexibility and choice over which celebration you wish to go to. Events are based both outdoors and indoors. One of the most popular events are the Awakenings New Year's Eve Special which gives you an amazing experience of a huge club abroad, ideal for if you are wishing to spend your New Years Eve on  holiday with your friends.
This event includes many techno and electronic DJs, brilliant if you're looking to dance the night away. Or, if you're looking for a less outgoing event, why not check out the 'What's Up With Amsterdam' website, which has multiple suggestions on where you could spend your New Years Eve.
One of the best suggestions if you're looking for more of a relaxed getaway would be the Magere Brug (Skinny Bridge) which is a perfect spot to watch the fireworks from. It doesn't stop there as there are also plenty of events on New Years Day such as the New Years Dip where thousands gather to brave to cold icy waters at Zandvoort aan Zee – join them if you're feeling brave enough! Quite similar to our Boxing Day Dip!
Accommodation
Why not enjoy your stay in Amsterdam at the Radisson Blu Hotel? The Radisson Blu hotel is a 5 star hotel, which is only a 12 minute walk from the centre of Amsterdam. The hotel includes all you need, from free wi-fi, to on site parking, a restaurant, hotel bar and a gym. The prices range from around £136 a night, check out the website for additional information.
Berlin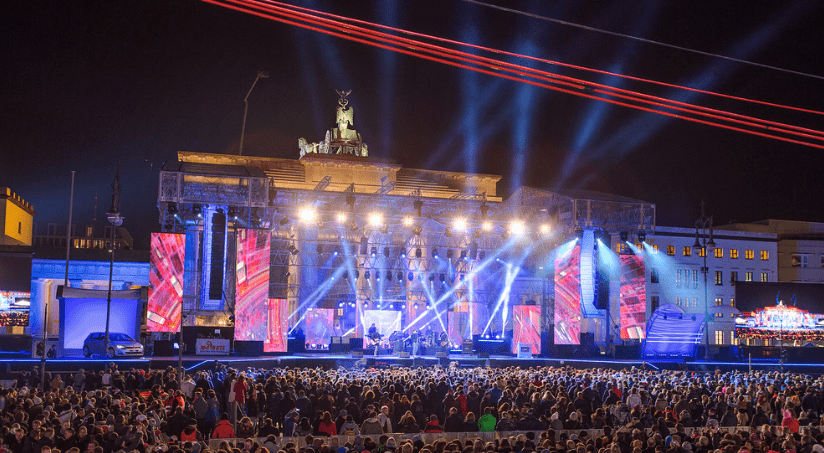 Berlin comes to life on New Years Eve, with the whole city thriving with NYE spirit. The streets come alive with food stalls and bars, so you definitely won't go hungry. Many stages are also placed throughout the city with some fantastic New Year performances. A favourite is the Silvester am Bradenburger at the Brandenburg Gate which is a spectacular venue, attracting thousands of people each year.
From a range of productions, to live bands which will all be on the stage. For more information on this event check out this website (translated) which gives all the details of the event as well as including a video of the NYE party at the Brandenburg Gate which took place last year, giving you an insight into the incredible party atmosphere which takes place on this night.
Accommodation
One of the best hotel deals is that of the four star Holiday Inn Hotel. Located in Berlin City Centre, so everything is easily accessible. The hotel itself includes Wi-Fi, Parking, a Restaurant & Bar, and a Gym. The hotel also allows pets! The prices range from £54 a night. Check out the website for additional information.
These are some of the best destinations, but don't just take our word for it. Pack your bags and head out that door.