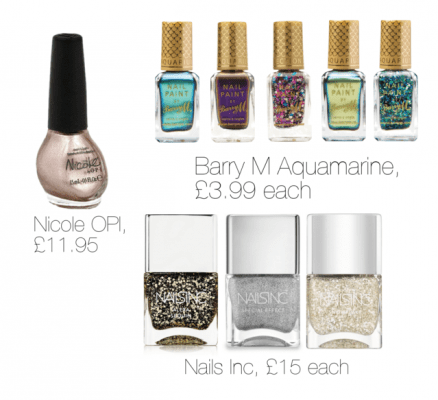 Nails Inc, £15         3/5
These are the highest nail polishes in our list, with endless shades to choose from, I challenge you to find a shade you don't like! Despite the high price tag, you get a lot of polish for your pounds, however, the litter is a mission to remove. On the other hand, you could see this as strong staying power.
Nicole by O.P.I Collection £11.95 each       4/5
I tried the colour 'I'll Tinsel You In' I found this looked great over a black base creating a black and gold effect to accompany a little black dress; perfect look for a night out. Although this is a little expensive, it was long lasting, applied effortlessly and was an overall all a great varnish.
Nail paint by Barry M Aquamarine Collection £3.99 each         4/5
I really liked this collection, I found you could apply a lot or little and it still looked great. When applying a few layers I found it give a textured effect which looked really good on my nails. It did chip quickly after a one day's wear so I would recommend using a top coat.
Overall Verdict: Nicole by OPI